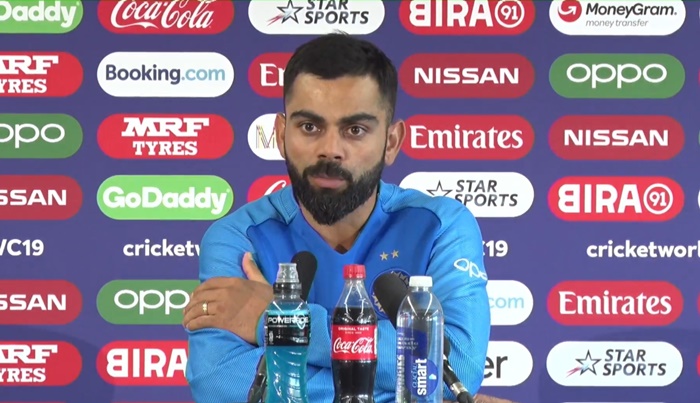 New Delhi: Team India's stint in ICC World Cup 2019 ended with a 18-run defeat against New Zealand in the semi-finals. This defeat broke the hearts of millions of Indian fans. The semi-final match between India and New Zealand lasted two days, the match was stopped due to rain on the first day and the rest of the match was played on reserve day. When MS Dhoni was on the crease until Men in Blue was expected to win, but the hope of India's win ended when Martin Guptill's direct throw to run out Dhoni.



In the post-match press-conference, Kohli said that shot selection could have been better. He also mentioned that the team is sad but are not devastated by the heartbreaking loss.
You feel bad for the result. Everyone goes out to win the match and when it doesn't happen, you feel sad. We're sad but not devastated," Virat Kohli said at the post-match press conference.

Virat Kohli lavished praise on the New Zealand bowlers for hitting good line and lengths throughout the course of India's innings.
"Rohit got a good ball and my ball was also decent. Couple of shot selections could've been different. We were confident despite the start we got. But the credit goes to New Zealand's bowlers who kept on hitting the right line and length," Virat added.
Kane Williamson usually keeps a composed, calm nature to his press conferences but the Black Caps skipper had reporters laughing on multiple occasions after this morning's World Cup semi-final.

Williamson and the Black Caps sealed a spot in the World Cup final after stunning India with an 18-run win at Old Trafford this morning.
The Kiwi skipper kept the surprises coming after the match with a couple of cheeky answers to questions from both New Zealand and Indian media.
The first came from one Indian reporter who asked if Williamson would have selected MS Dhoni in his squad after the 38-year-old copped heat throughout India's campaign.
"He's not eligible to play for New Zealand," Williamson joked.