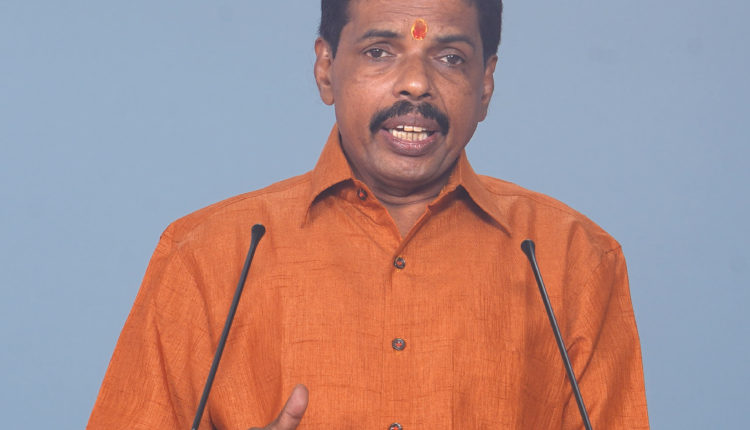 New Delhi: Actor Kamal Haasan recently made a statement 'Nathuram Godse was the first terrorist after Independence'. Jihadi terrorists killed more than 100 devout Hindus in Tamil Nadu.
Similarly, Hindus are being killed in Sri Lanka; however, Kamal Haasan does not dare to speak against this. Hindus should protest against such tendencies. When Hindus unitedly and strongly opposed his outrageous statement, Kamal Haasan was forced to say, "My daughter also studies tenets of Hindu Dharma"G. Radhakrishnan, State President, Shiv Sena from Tamil Nadu said this while speaking on the 3rd day of the 8th All India Convention for the 'Hindu Nation' on 31st May at Vidyadhiraj Hall of Shri Ramnath Temple here in Ramnathi, Ponda, Goa. He was speaking on the topic 'Form of anti-Hindu ideology is on the rise in Tamil Nadu State and remedies thereon' in the seminar on 'Present plight of Hindus in various States'.
On this occasion, Dr. Shibnarayan Sen, Editor of the periodical 'Truth' and member of 'Shastra-Dharma Prachar Sabha' said, "It has become difficult for Hindus in Bengal even to survive. In such a situation, the prevailing political transformation happening in Bengal is only due to spiritual power. The politicians will not agree with it; however, this is the very underlying reason".
Ranu Borah of Swami Vivekanand Centre of Assam said, "Religious fanatics are migrating in Assam from Bangladesh in a large number. 9 districts in Assam have become Muslim-majority and the population of religious fanatics there is more than 80%".