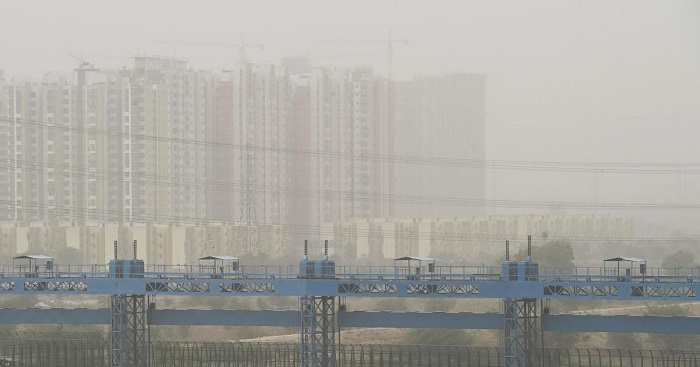 A recent survey shows that about 35% inhabitants of NCR want to move out of NCR , and reason being the Air Pollution. In the recent past, we had cleanest air of all time when the AQI of Delhi and nearby areas went down to 45. But that was just for few weeks and we are just couple of weeks away from entering "Unhealthy" indices.
But does quitting help the cause, come every winter and we see the air quality getting worse than a gas chamber and that too for months. Every day in winter we inhale smoke equivalent to 45 cigarettes. 



Delhi and NCR continues to be in news  worldwide, during winter, and remains on top for bad reasons.  It is not that there has been no serious effort. Numerous legal, regulatory and institutional measures have been initiated, and schemes implemented since early 1980s. But the results are far from encouraging or rather discouraging. So what is the reason that after so many ongoing efforts we are still forced to breath bad air.
The administration and government send out message to blame stubble burning to large extent, but an emission inventory released by Ministry of Earth Sciences in October 2018, highlights transport and industrial sectors as two biggest sources of air pollution in NCR. Almost 30% by Transport sector and 35% by industrial sector. 
Many industrial/power plants and brick kilns in NCR region run on inferior fuels, and several polluting industries operate illegally within city limits.

The second contributing sector is construction sector. The construction activities generate dust to the extent that visibility deteriorates. Most of the builders in region flout norms and fail to comply with dust control measures, such as on-site green barriers, water sprinkling, etc.

Burning of solid waste and dry leaves, manual street sweeping, and use of diesel gen sets, especially in Noida and Gurgaon, this contributes to large extent

Burning of firecrackers (on Diwali), cause a suffocating smog in the entire region. The toxic effects of such seasonal activities are worsened by climatic conditions in autumn and winter months. 
So coming months we all will again discuss solutions at micro level, blame govt or administration or ourselves, but will that help to reach a solution.. NO.
Unless the planning and administrative agencies display excellence in performing their roles, there is every possibility that air pollution is likely to rise in the coming years. The adhoc style of city/regional planning, development, management and governance will not lead to achieving the target and reducing pollution. Since it is regional issue, and not city-specific, a regional approach needs to be applied. It will be ideal for various central/state/local government departments to work together, and engage with citizens, research institutions, and private companies. But every state is sitting with their political agenda and have never seen a committee formed at regional level to initiate action.
Summing it up, with the collaborative approach government (not only one state or central) must seriously address numerous grey areas as mentioned above. The regional plan of NCR and city plans should contain policy directions for various administrative agencies – transport, industry, construction, sanitation, environment, agriculture, etc
Planned and connecting, affordable, eco-friendly, and clean public transportation facilities are still a distant dream. Power supply and waste management situation in NCR cities is abysmal.  Construction activities by builders and authorities are not governed by any moral / legal provisions, and lastly we blame farmers but cheap and convenient options for disposal of agricultural residue are not made available to them.