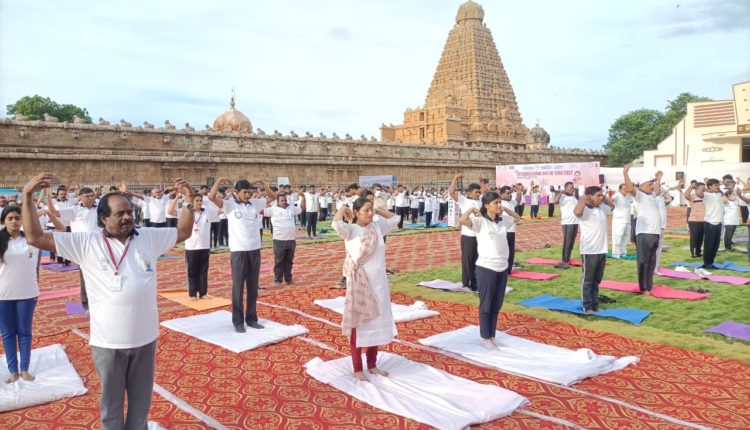 Yoga helps to unite the society: Union MoS for Education Annapurna Devi
Ten News Network
Tami Nadu (21/06/2022): Annapurna Devi was addressing the 8th International Yoga Day Celebration at Thanjavur Brihadeeswarar Temple, Tamil Nadu.
She said that Yoga which unites the people of our country will be an inspiration and motivation to unite people from different parts of the world. She expressed her joy to join the large number of students and public to perform yoga at the culturally rich heritage site.
Some consider yoga to be an exercise, but yoga is beyond that. Yoga helps us to clear the distractions & delusions and brings clarity to the mind, the minister said. She also said that yoga helps us to perform our duties, intellectually and efficiently.
On behalf of Prime Minister Narendra Modi, who took the initiative to celebrate International Yoga Day, Minister Annapurna Devi extends wishers to all those involved in yoga practice today. She also pointed out that yoga, which expresses ancient culture of our country is practiced all over the world today, is a pride to our nation.
Minister has performed yoga along with the Vice Chancellor, Central University of Tamil Nadu, Prof. M. Krishnan, Dr. M. Loganathan, Director, NIFTEM, Thanjavur, S. Sridharan,Yogacharyar, Krishnamacharya Yoga Mandiram, Chennai, Dr. Ramakrishna Reddy, Supriendant Archeologist, ASI and others.