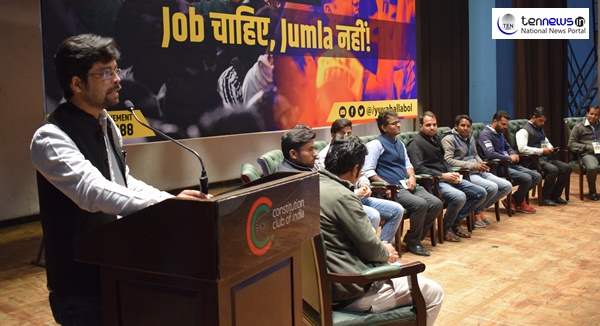 New Delhi:( 27/01/2019) On January 27, Yuva Hallabol movement held a historical "Youth Summit" at Constitutional Club of India in New Delhi where youth leaders and representatives protesting on the issue of unemployment in the country came together.
Apart from these youth leaders, groups protesting against all selection commissions and recruitment boards present in the "Youth Summit" expressed their views on deteriorating job opportunities and expose corruption in recruitments making governments accountable.
Yuva Halla Bol is not just pointing out to the flaws and failures of the government but is proposing solutions to address the crisis. The YHB have documented a well-researched proposal to the issue of unemployment and are demanding the government to implement it.
Here are the demands of Yuva Hallabol discussed in Youth Summit
# The government must create more jobs in all sectors as per the ideal requirement
# Implement a Fair Exam Code to ensure that every recruitment process is completed within 9 months
# Ensure Fair Selection by ending the present regime of paper leaks, delays and corruption in the recruitment process
# All the vacancies in the government and public sector be immediately filled
Speaking on the occasion, Swaraj India Delhi Chief, Anupam said, "In government departments around 24 Lakh posts are vacant, instead of creating job opportunities, the government is quashing the available posts. Even when entrance exams are conducted, in many cases question paper got leaked before the exams. In past year, 2018, around 27 entrance exam question papers were leaked before the actual entrance exam."
Slamming the ruling BJP-led NDA government Anupam said, "the BJP was elected to power on the grounds of creating employment in the country, the party has promised two crore jobs but the government was failed to materialise its promise".