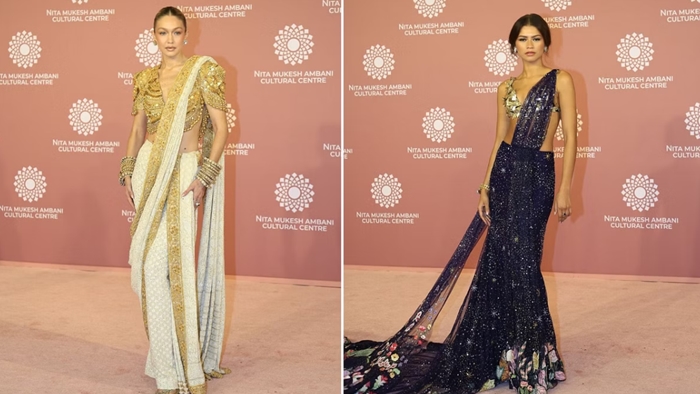 Zendaya, Gigi Hadid rock saree look for India event, keep social media abuzz
Ten News Network
New Delhi (India), 2nd April 2023: Nita Mukesh Ambani Cultural Centre was recently opened by business tycoon Mukesh Ambani and his wife Nita Ambani, and the event was attended by a host of celebrities. Tom Holland and Zendaya, were present at the event, Tom looked sharp in a black suit, while Zendaya chose a midnight blue sari. Supermodel Gigi Hadid also wore a white and golden saree to the event, designed by Abu Jaani and Sandeep Khosla.

The gala event was attended by famous people from both India and overseas, and images from it are still circulating on social media. Numerous famous people were observed at the event, including Deepika Padukone, Ranveer Singh, Alia Bhatt, Sidharth Malhotra, Kiara Advani, Rajinikanth, Priyanka Chopra and Nick Jonas.
The Nita Mukesh Ambani Cultural Centre had a colossal opening event. The Cultural Centre will offer free courses for kids, adults, seniors, and people with disabilities. Additionally, it will include contests, teacher awards, literacy initiatives, and the world's finest music, theatre, fine arts, etc.
Nita Ambani expressed her vision and aspirations for the centre and said, "Bringing this Cultural Centre to life has been a sacred journey. We were keen to create a space for both promoting and celebrating our artistic and cultural heritage in cinema and music, dance and drama, literature and folklore, arts and crafts and science and spirituality. A space where we showcase the best of India to the world and welcome the best of the world to India."