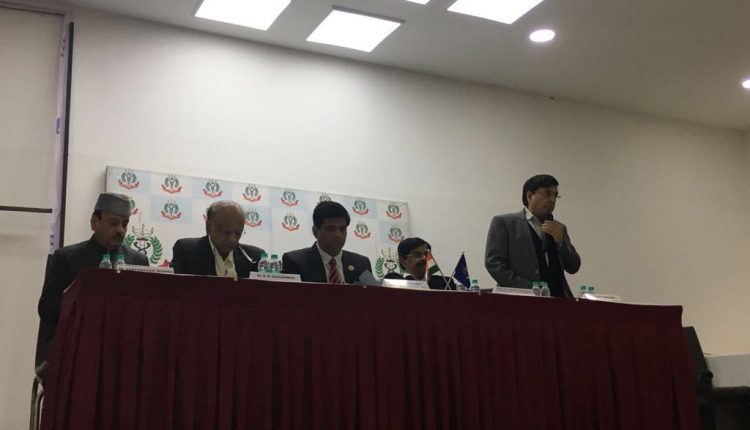 NMC: IMA declares Black Day
(1/01/2018)
Indian Medical Association today organized a press briefing and raised serious concerns over about to be introduced National Medical Commission Bill. IMA National President Dr Ravi S Wankhedkar said, "IMA is completely against this partial bill which has been framed with no concern about the medical fraternity. Doctors all over the nation will protest against the bill and we cannot allow such draconian law to be passed in this country".
It was further said that National Medical Commission Bill is unacceptable to IMA and the modern medical profession of India.  IMA declares this bill as anti-people and anti-patient. NMC is an anti-poor bill with pro private management clauses.   The bill purported to eradicate corruption is designed to open the floodgates of corruption.  A bill to regulate the medical education and medical practice without the concurrence of the medical profession will be a disaster.
Medical Education: This bill provides reservation to the rich.  The marginalized sections of the society and the people from lower socio economic strata will be denied access to medical education.  This bill will lead onto proliferation of private medical colleges.  No inspections have been proposed for starting a medical college.  Permission to increase the post graduate seats or to start new departments is not required.   The private colleges can fix their fees for more than 60% of seats.  Ambiguity in the penalties ranging from 5 crores to 100 crores is a huge invitation for corruption.  As a result of this pro private management bill both medical education and medical practice will be become very exposure and unaffordable to common man.
Medical practice: Unscientific mixing of systems and empowering of other practitioners through bridge courses will only pave the way for substandard doctors and substandard medical practice. This will seriously impact patient care and patient safety.  If these practitioners are proposed to be posted in villages, then there is a serious case of discrimination dividing the urban and rural people.  Indian doctors with their pristine recognition in international arena will lose their stature and demand.
Anti-Federal Non representative and Undemocratic: NMC will have an effective membership of 25 of which only 5 members (part time) will be elected.  NMC will have 4 four boards:-
Under Graduate Medical Education Board
Post Graduate Medical Education Board
Medical Assessment and Ratina Board (MAR)
Ethics and Medical Registration Board (EMR)
Each Board will consist of 3 members and all these will be only nominated members of the Central Government.  As such the relevance of elected members vis a vis their authority and jurisdiction is unanswered.
There is also inadequate representation to State Governments.  One university of a state will be given representation in Medical Advisory Council which does not exercise any power. Along with such non representation of the states,  the Central Government assumes power to direct and ensure compliance of State Medical Councils which are sovereign institutions created by an enactment of state legislatures. Medical students who have qualified after their final year MBBS examination are subjected to a Licentiate examination before being allowed to practice.
A non-representative undemocratic nominated NMC can only be an extended Government Department.  It will lack credibility and autonomy in discharge of its responsibility to the profession and people.  IMA strongly opposes this bill and demands appropriate amendments.  IMA has no option but to take the issues to our patients and the people.  IMA has declared Black Day and has withdrawn routine medical services like OPD and elective surgeries across the country for 12 hours between 6 am to 6 pm on Tuesday 02/01/2018.  Emergency and critical care services will function.   IMA appeals to our patients and the people at large to support the right stand taken by the medical profession of the country and force the Government to bring in appropriate amendments.
DEMANDS AND SOLUTIONS
The NMC should reflect the aspiration and the vision of the medical profession of the country. IMA demands one elected representative in NMC from the Registered Medical Graduates of every state (and not in the Medical Advisory Council).
No separate registration for AYUSH. The minimum qualification to practice modern medicine shall remain MBBS. No bridge courses to MBBS. No Joint Council meetings to formulate them. IMA will facilitate the deployment of 65000 fresh MBBS graduates graduating every year in Rural Health Services with appropriate working conditions and incentives.
No licentiate exam after final MBBS examination. IMA proposes common All India Final MBBS examination.
Legitimate inspection and appropriate regulation on starting and running a Medical College. 85% Government fixed fees in private Medical Colleges.