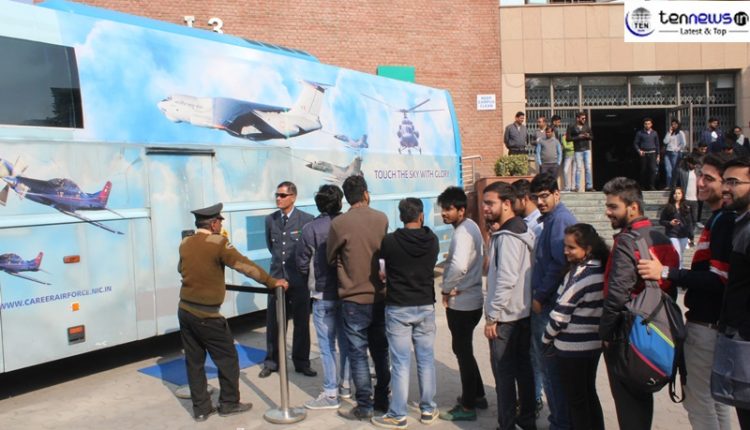 Indian Air Force's IPEV visits Amity Noida, Students excitingly get glimpse of the flying force!
Ashish Kedia / Jitendra Pal
(09/01/2018) Noida :
Indian Air Force's IPEV road drive reached Amity University Noida on Tuesday. This modified vehicle named IPEV of Induction Publicity Exhibition Vehicle was launched by Air Force to establish one to one interaction with the student fraternity of the Nation.
There was palpable excitement among students of Amity University to get a glimpse of this specially designed vehicle. Students were given an opportunity to get inside the vehicle in short batches and learn more about IAF. Waiting for them inside this vehicle was an actual flight simulator zone, miniatures of different aircrafts, the specially designed uniform of Air force pilots or G Suit among other interesting insights.

Group captain Manish Sabharwal accompanied IAF IPEV at Amity University and also gave a detailed talk on IAF before starting with the demonstration of the vehicle.
Later he spoke exclusively to Ten News and told us about the concept behind IPEV road drive, interaction with students and Indian Air Force.
"Our idea is to bring the IAF closer to the younger generation. It also gives an opportunity for the youth to take a close look at the opportunities in the IAF. This is in continuation with our innovative initiatives to have one on one interaction with students and as we can gather the excitement among students and the curiosity that we encounter at different colleges make it all more worth" Group Captain Manish Sabharwal said.
The modified vehicle (IPEV) brings various facets and working of the IAF to aspirants across the expanse of the country. Launched in year 2015 it has already cover North and South zones extensively and with this new phase currently in operation, its visiting more campuses and reaching out to more students.
The vehicle house an Information Zone which would give aspirants all career-related information in the IAF. The vehicle also has a Simulator Zone where one can experience the joy of flying various aircraft. Currently this IPEV gives you an experience of flying Sukhoi 30. The aircraft Model Zone displays latest aircraft in the inventory of Air Force with their features and videos.