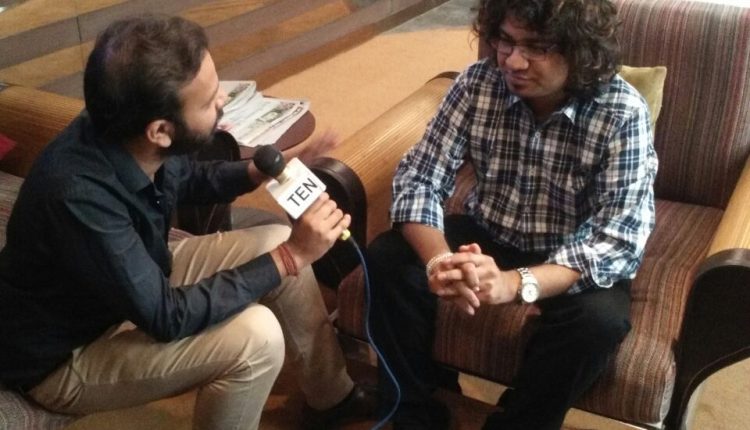 Music is about inner call, it can't be taught without passion : In Conversation with Sitar Maestro Abhishek Mallick
Ashish Kedia / Rohit Sharma / Saurabh Kumar
One of the most well-known Sitar players of India, Abhishek Mallick was in Greater Noida to perform at an event organized on the side-lines of World's Largest Electrical Expo- ELECRAMA 2018. Ten News caught up with him for a brief interview. The eminent Sitar maestro talked about various aspects of Indian classical music, the Indo-fusion music, his association with Pt. Bickram Ghosh, among other things.
Here are the excerpts of the interview:
Ten News : You started with Tabla at very tender age and gradually got inclined to Sitar, only to master it with perfection. Could you please tell us about this journey ?
I believe that Tabla is the thing any musician must learn first to understand nuances of tunes and beats, so I started with tabla but not much after my the-then guru left. At that time I was resolute that if I learn tabla, I will only learn from him, hence that chapter ended there. So later on my parents introduced me into sitar and that is how my journey began with this beautiful instrument.  I stepped into the domain of sitar when I was seven. Under the strict tutelage of my guru, Pandit Shyamal Chattopadhyay, who was the disciple of the Late Ustad Md. Dabir Khan (the Last descendant of Mian Tansen) as well as the legendary maestro Pandit Ravi Shankar, my musical skills blossomed, helping me evolve. I have also been fortunate enough to have received taalim from the doyen of Vishnupur Gharana, Pt. Manilal Nag in the past for about 2 years.
Tell us about your association with Pt. Bickram Ghosh and how are the experiences different while playing in a studio and playing for a live audience?
I played for The Vayuputras – the Original Sound Track of Immortals of Meluha. My association with Pandit Bickram Ghosh is since 2012 and I have also becomes a part of his fusion band called Rhythmscape. I got an opportunity to play tracks in many of his Tollywood and Bollywod production and have recently done an album Maya with him.
Coming to second part of the question, I believe that when you are playing live you cannot do much experimentation with the sound. On the other hand Playing for the live audience is altogether different and there isn't much chance to experiment. When you are playing in a studio you can tweak sound and there are opportunities for experimentation.
However it is my live performances that must be credited for me venturing in to domain of electric sitar. Thought of playing electric sitar came when I started playing for fusion Bands. In such bands we have to play with electric guitar, drums, keyboards etc. and as these are very loud instruments in comparison to sitar hence it becomes really difficult to maintain an identity amid such instruments. Hence this is how electric sitar became a part of my performances and i consider it an evolution. It is a very new thing. Currently I am playing my fifth electric sitar and I believe that it is really important to retain the original character of Sitar while using the electric version of the same.
What has been people's opinion in general about this major change into character of the traditional Sitar? Have you faced any criticism regarding the same ?
I have been very fortunate in this regard and still  feel blessed to maintain the original character of Sitar. So yes people might have been sceptical about how an electric guitar performance may sound different then the acoustic sitar but after they hear it, there inhibitions vanish. I have been lucky to receive comments informing me about how this electric Sitar is sounding exactly like the acoustic Sitar and obviously that remains the intent.
How do you foresee the future of Indian Classic Music?
Indian classic music is also evolving and in doing so we are collaborating with the world. The concept of fusion came because a lot of people from different parts of world wanted to hear more and more of Indian classical music. It is gaining wide popularity and we see a very bright future for Indian Classical Music.
What is your most memorable experience of performing for a live audience?
We have recently being touring as part of "Drums of India" performance series and we are receiving very good response from audience and overall the experience is really great. There is this particular tune by Pt. Ravishankar ji which was composed for the concert for Bangladesh that happened in 1971. This particulat piece of that era receives excellent response from the audience.
What is your message for younger generation who want to get into classical music?
It is really important to understand that Classical music can't be taught to everyone and it is not something which can make you famous overnight. Anyone must learn it only if they love it. So it is basically about being passionate and actually it is more of an inner call.