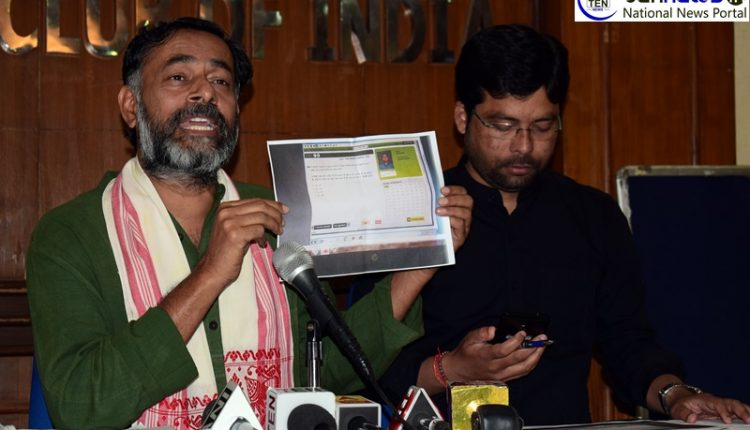 Swaraj India reinforces demand for Independent Inquiry into SSC recruitments
Prerit Chauhan (Photo/Video) By Lokesh Goswami Ten News Delhi :
New Delhi: On the charges of alleged Corruption in the Staff Selection Commission (SSC) examinations, SSC Chairman Asim Khurana on Thursday said that the screen shot of a candidate which has become viral on 21st February examination is a matter of Cheating. This does not mean that the paper of the CGL exam of the SSC has been leaked.
SSC CGL job aspirants have been protesting since the beginning of this month alleging question paper leak of the Combined Graduate Level Examination (CGLE) Tier II.
Swaraj India on Friday produced more material evidence to warrant a probe into the examinations and selection conducted by the Commission. Swaraj India President Yogendra Yadav and Swaraj India's Delhi chief Anupam addressed a Press conference and presented glaring evidences to expose how SSC has been playing with the future of youth through it's various exams.

Addressing the Media, Yogendra Yadav Said, "Is the Centre lingering the issue of the lakhs of SSC job aspirants? Is it playing with the life and future of the students for vested interests? At a time when their hard work was to be paid off, the callousness of the exam conducting authorities in the country has forced them to hit the streets leaving behind their dreams. They now see a bleak future ahead."
Swaraj India reinforces demand for Independent Inquiry into SSC recruitments
Swaraj India's Delhi chief, Anupam Said," "The SSC chairman has been trying to save his chair either because of his fault or due to some pressure from the New Delhi in-charge of the BJP government. Khurana is telling it's not a leak rather a cheating incident. Students' pens, belts, shoes, everything is checked before entering the examination hall, even the halls are under CCTV surveillance. His comments are just sad and unfortunate".