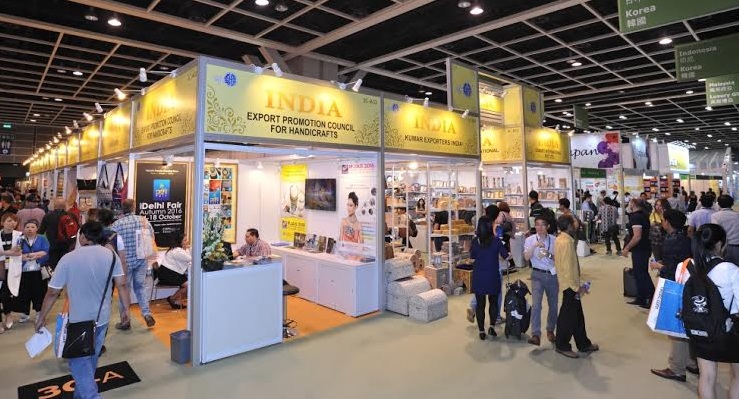 115 CRORES GENERATED IN HONG KONG SHOWS HELD IN APRIL 2016 – EPCH
EPCH has been performing multifarious activities to ensure the overall growth of handicrafts exports from the country.  These activities covers developing awareness amongst producers and exporters for increasing exports, providing support for product development, technological upgradation, design development, skill development, trends and forecast, visual merchandising and many more. 
One of the important activities also includes providing marketing support to its members through the medium of participation in trade fairs and exhibitions.  On an average EPCH takes parts in around 50 trade shows and Buyer-Seller-Meets held worldwide every year. Participation in these fairs has been a great source for generating export orders on a repetitive basis from new and traditional markets of Indian handicrafts informed Shri Rakesh Kumar, ED – EPCH.
As Hong Kong has emerged gateway for business to Asia, EPCH has been paying special attention to this growing region by participating in Specialized trade fairs held in Hong Kong.  These fairs are extensively visited by overseas trade visitors from nearly all the important countries of the world particularly for the items covered by the Handicrafts sector. 
EPCH participated with 175 member exporters from all over the country in three important fairs held in Hong Kong during April, 2016  namely Hong Kong Gifts & Premium Fair, Hong Kong Houseware and Hong Kong International Home Textiles & Furnishing fair. 
More than 100000 visitors from all over the world visit these three fairs for sourcing requirement of Houseware, Textiles and Gifts & Corporate gifts every year.  So EPCH has been participating in these fairs for the last many years and participation in the past has yielded very good business results, further elaborated Shri Kumar. 
Shri Rakesh Kumar said that Business enquiries worth Rs. 115 crores have been generated by Indian exporters during above shows.    Simultaneously EPCH also used the platform to do extensive publicity of forthcoming mega show known as IHGF-Delhi Fair Autumn 2016 at various locations in Hong Kong such as Ferries and Metro stations at Wanchai, at airports through light box and trollies and in and around venue of the fairs to motivate buyers to visit show.
Handicrafts exports during the year 2015-16 was Rs. 21,257.33 crore in comparison to exports of Rs. 18639.14 crores in 2014-15 with overall 14.05% increase in total exports informed by ED-EPCH.
EPCH an apex body for promotion and export of handicrafts products from India to the world markets has evolved an integrated and comprehensive policy which revolves around development of new product lines, new designs, improvement in technology and aggressive marketing as well as exploration of new markets.