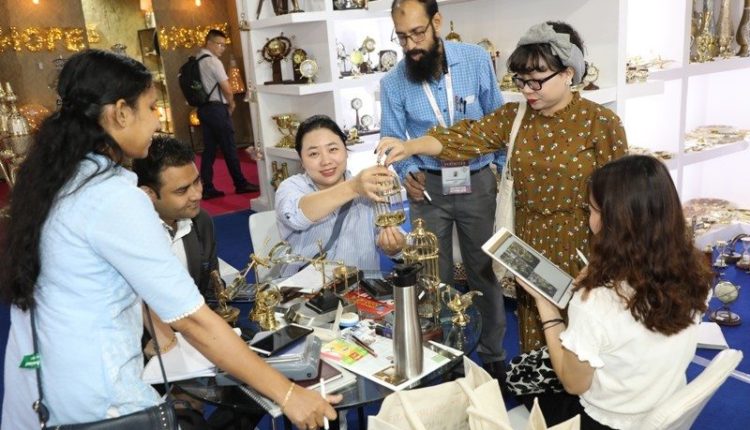 4-day Indian Fashion Jewellery & Accessories show set to open on 27th July
New Delhi – 24th July, 2021: 14th edition of Indian Fashion Jewellery & Accessories show [IFJAS'21] is all set to be held from 27th to 30th July, 2021 on a virtual platform to reflect and display the rich legacy of traditional Indian workmanship blended into innovative designs of fashion jewellery & accessories.
In this edition of IFJAS, more than 150 fashion jewellery and accessories member exporters will display varied range of fashion jewellery and fashion accessories like Stoles, Scarves & Shawls, Fashionable Protective Wear, Belts, Waistbands & Wallets, Hand Bags, Purses & Pouches, Head & Hair Accessories, Handmade Attires, Embroidered, Beaded, Sequined Accessories, Fancy Footwear, Beads, Stones & Components, Dresser Accessories and head to toe adornments made out of widest range of materials and designs available in the country in these categories.
Raj Kumar Malhotra, Chairman, EPCH  said that in the past few decades, India has developed its expertise in the field of Fashion & Accessories and has now emerged as one of the leading exporters of wide range of accessories matching with the dresses in accordance with the  prevalent fashion.
Describing it an important segment of India's export basket, Malhotra further said that USA is the largest importer followed by UAE and UK and has tremendous potential to expand further. The display line is thoughtfully developed and exhibited by credible manufacturers, exporters and artisans and the presented innovations are a result of consistent feedback, research and exploration of materials, crafts, forms & finishes. "Worthwhile to mention here is that even in these pandemic times, the manufacturing units of the exporters are fully functional with all Covid related SOPs in place," he added further.
Dr. Rakesh Kumar, Director General, EPCH said that Council has made all out efforts to publicize the 14th edition of IFJAS'2021 through social media, advertisement in International web portal of Indian mission abroad, international exhibitions abroad websites, e-mailers, Foreign embassies/missions in India to invite potential overseas buyers from all across the globe and also domestic volume retail buyers to source the finest in Indian craftsmanship and artistic finish in perfect harmony with modern designs, contemporary colours and new product development.
Adding further, Dr. Kumar informed that buyers and their representatives from over 60 countries including Afghanistan, Argentina, Aruba, Australia, Bahrain, Bangladesh, Barbados, Brazil, Bulgaria, Canada, Chile, Colombia, Denmark, Ecuador, Fiji, France, Germany, Ghana, Greece, Guatemala, Hong Kong, Israel, Italy, Japan, Korea, Luxembourg, Macedonia, Malaysia, Malta, Mauritania, Mauritius, Mexico, Moldova, Morocco, Mozambique, Netherlands, New Zealand, Nigeria, Peru, Portugal, Reunion San Marino, Saudi Arabia, Singapore, South Africa, Spain, Sri Lanka, Sweden, Switzerland, Tajikistan, Tanzania, United Arab Emirates, United Kingdom, United States, Uruguay and Vietnam have registered to visit IFJAS'2021.  Also, a good number of domestic volume retail buyers have registered to visit the show.
As always, the fair will have participation from artisans from North-Eastern States, Western Region and Eastern Region  wherein they will showcase the best fashion jewellery and accessories of these respective regions. The show will also have informative webinars, craft demonstration by master craftpersons and will culminate in distribution of Ajay Shankar Memorial awards for best design and display stands in the category of fashion jewellery & accessories.
The organizer of the show is Export Promotion Council for Handicrafts which also organizes World's largest congregation of Handicrafts exhibitors under one roof during IHGF-Delhi Fair held twice in a year. Forthcoming IHGF Delhi Fair-Autumn'2021 will likely be organized in October'2021, shared Dr. Kumar.