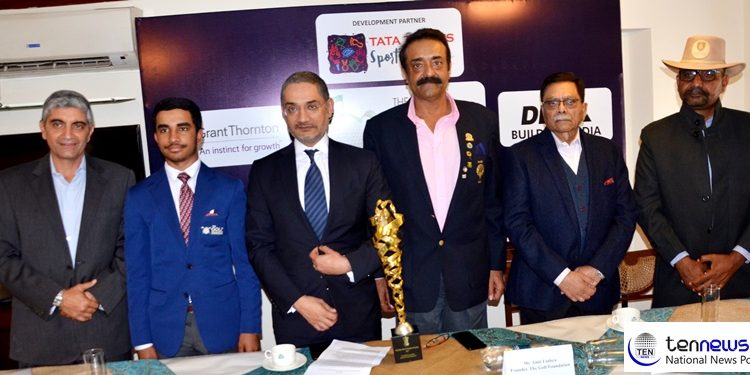 5th Invitational Fundraiser Tournament kick start from Feb 21 at Noida Golf Club
KASHIF HASNAIN (PHOTO/VIDEO BY SAURABH SHRIVASTAVA)
New Delhi: If you are a golf enthusiastic and wants to see some fun-filled golf matches then visit Noida Golf Club tomorrow.
The Golf Foundation of India is all set to host its 5th edition of 'lnvitational Fundraiser Tournament at the Noida Golf Club from February 21, 2018 at National Capital Region (NCR). The Tournament is a fun-filled event which allows golfer to indulge in their favourite sport and give back to society at the same time.

The Golf Foundation who has won Rashtriya Khel Protshan Puruskar"(highest Award for sports promotion) by the president of India for their contribution in Golf has been holding the tournament. The upcoming tournament is being organized with an aim to help young and under-privileged golfers who are passionate, highly dedicated and have a dream of making it big in golf on national and International platforms.
The annual fundraiser has become a must attend event for many a corporate entity, as a way of acknowledging support to the sport as well as the causes that the Foundation supports.
While announcing about the tournament, Founder of the Golf Foundation and Arjun Awardee Amit Luthra said, "We were humbled that our work has been noticed and we have been awarded with the prestigious, Rashtriya Khel Protshan Puruskar by the President of India, Sri Ram Nath Kovind.

The 21-year-old talented Shubhankar Sharma (top rated Indian professional in the World at 72) is the Brand Ambassador, who is a beacon of light to our young talented kids at the Foundation.
"Many milestones have been achieved with Phase 1, we are now venturing into Phase II, that is "Skills Development " this is for kids who do not make it to the World, European, Asian or even the Indian level and whom we cannot place in the inter services golf teams or the public sector oil company teams, we have identified 45 sectors grass cutting, machine repairs, agronomist, event managers, rules officials, coaches, etc. We will train them to make a living out of the game they love",