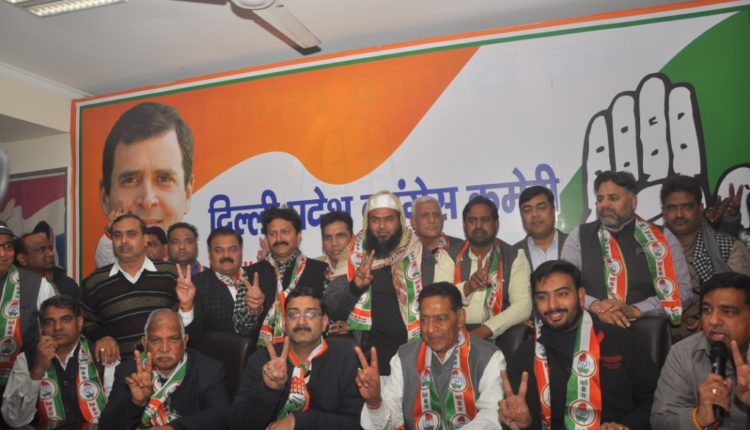 New Delhi, (22/01/2020): Delhi Pradesh Congress Committee president Subhash Chopra today said that he is totally shaken up by the increasing popularity of the Congress party in Delhi, the BJP and the Aam Aadmi Party have ganged up to file the maximum number of objections against the Congress candidates, which proves that Congress is on a strong wicket in the Delhi Assembly elections.
Chopra said that the BJP and AAP have raised the maximum number of objections against the Congress candidates prove their complicity and conspiracy, as the scrutiny of the candidates was held today.

While welcoming many prominent leaders and workers from the Aam Aadmi Party and BJP to the Congress at a press conference at the DPCC office, Rajiv Bhawan, Subhash Chopra said that the fact that nearly 74 candidates have filed their nomination papers against Chief Minister Arvind Kejriwal from the New Delhi Assembly constituency shows that the AAP Party has been a total failure in governance in Delhi in the last five years.

Speaking to Ten News, Chopra said that if Kejriwal had done any constructive work, then so many candidates would not have field their nomination papers against him in his own constituency. Others present at the press conference were Congress candidate for the Rohtas Nagar Assembly seat Vipin Sharma, Congress candidate for the Mustafabad Assembly seat Ali Mehndi, former MLA Anil Bhardwaj and Rattan Jain.
​
Subhash Chopra said that Kejriwal has no right to continue in his position after remaining mute witness to the police assaults on students of the over 100-year old Jamia University and attacks by hoodlums on students of the  prestigious JNU as students are the future of the country and if Kejriwal could not ensure their safety and security, then he has  failed in his duty as the Chief Minister of Delhi.