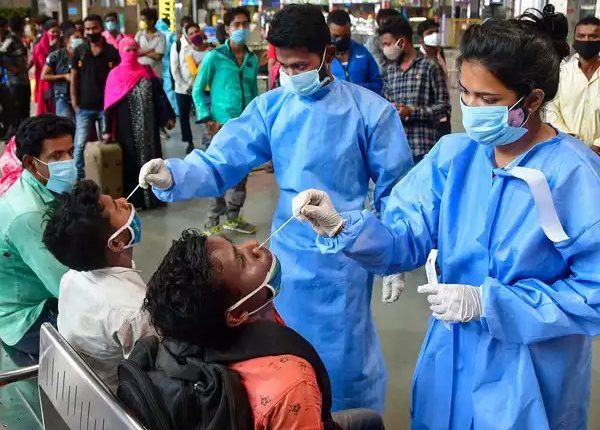 A breakthrough surge in COVID-19 cases: Frightening situation in India
By: Dr N.K. Prasanna & Dr S.K. Varshney
The ever-increasing cases of coronavirus have created an alarming situation and a kind of outbreak in India. However, the real reason has not been known yet. People here are facing a panic situation, some cities are facing full lockdown and night curfews but still, the situation is not in control. The not only surge in cases has gained attention but the vaccinated people are getting affected by the virus after their jabs are done, this has become a matter of concern. We are juggling between the reasons for the huge case rise; we don't know the exact reason for the infection whether it is due to mutations in the virus or carelessness from our side.
The second wave has changed the scenario drastically, and we have taken this virus for granted for sure because once again this virus has started showing its terrible form. Although Scientists have shown their concerns for the mutating virus and one of them is the original early china virus which turns out to be the most dangerous one in the future. India has crossed the Brazil tally and became the second worst-hit country in the world. A variant of concern has also become the blooming reason for the sudden surge in the COVID-19 cases.
The re-infection in India can be because of several reasons and factors that can contribute to the breakthrough cases in India. Since no vaccine is of 100% efficacy so as COVID-19 vaccines suggest we will always see breakthrough infections after getting our vaccine jabs done. Contributing factors can be the imperfect administration of the vaccine that means not maintaining an appropriate temperature could lead to re-infection or a person with a weak immune system could be a possible factor.
After 16 September 2020, the caseload down rapidly but in February 2021 it suddenly getting started to increase. There are various reasons for the rising caseload not only in India but globally. All pandemics come in waves, learning from the 1919 pandemic Spanish Flu, it also came into a wave. It was observed that when these pandemics come in waves, the second and third waves are more deadly than the first wave, and this also the case with the COVID-19 pandemic. Common man perceives that when the first wave is over, we probably safe from it and the herd immunity has set in. 
During the unlocking of the workplaces, we probably fail to convey the message to people that virus spreads more rapidly in indoor areas than in the outdoors because virus used to spread by the transmission of droplets in the air and this is more frequently seen in the indoor areas. DG CSIR, Dr. Shekhar C Mande in an interview said that in India scientists are exploring that whether any possible mutant is increasing the caseload or not, the answer may be yes, maybe no. It requires a couple of weeks to prove it.
As of now (14 April 2020), in Delhi total 17282 cases were reported in last 24 hours and 108534 tests were conducted so far. Positivity rate of delhi was 15.92% for last 24 hours. Although 9952 patients were recovered and 104 people died due this deadly virus. 
There is no single reason for that surge in covid-19 cases but a fairly complex mixture of these reasons. But as common people, we must ensure that none of the reasons we get complacent on. This lethal infection should not be taken so lightly, the virus is mutating and changing its behaviour. Higher recovery rate and fewer daily reported cases had increased the carelessness among Indians and we might have thought that getting vaccinated can be a guarantee slips that ensure we could not get infected from the virus in the future that is why we put offs our masks, violating social distancing norms or even attending full crowded marriages and functions but this is not the case for sure. Not taking precautionary measures is putting thousands of lives at risk. Act like a smart citizen by putting your masks on.
References 
---
Dr N.K. Prasanna (prasanna@niscair.res.in) is a Scientist at CSIR-National Institute of Science Communication and Information Resources (CSIR-NISCAIR), New Delhi. Dr Sanjeev K. Varshney (skvdst@nic.in) is Head, International Cooperation, Department of Science and Technology, New Delhi