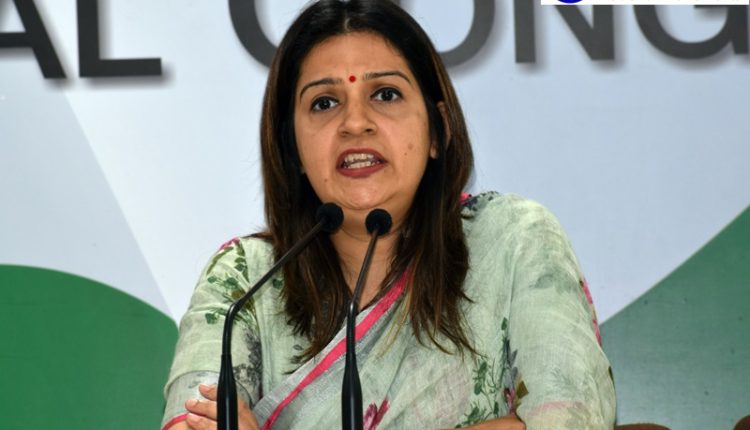 A Party of suited-booted, by suited-booted and for suited-booted, says Priyanka Chaturvedi targeting BJP
Shaihzad Abid (Photo/Video) By Lokesh Goswami Ten News Delhi :
New Delhi:The Rafale Deal Controversy war between Congress and BJP not looking to end in near future.
Whether BJP or Congress, everyday both are leveling new allegations against each other.

However, Defence Minister, Nirmala Sitharaman substantiated the leveled allegations on the ruling party by the opposition "baseless", on the other hand Congress is continuously questioning the BJP-led NDA, the compulsion to snatch the 108 Rafale contract from HAL, even though a 'Work Share Agreement' worth approximately Rs. 36,000 Cr was already signed on March 13, 2014.
Targeting the Modi government, Congress Spokesperson Priyanka Chaturvedi, said, "Reliance Defence was incorporated 12 days prior to the deal what is interesting is that Reliance Aerostructure Limited was incorporated on April 24, 2015 i.e 14 days after the announcement of purchase deal on April 10, 2015. The license for the same was granted by Ministry of Commerce helmed by Nirmala Sitharaman then."
Chaturvedi also questioned, "Why did Modi government reject the Air Force's need and demand for 126 fighter aircraft (7 squadrons) and decided to buy only 36 aircraft (2 squadrons).
She also claimed that Defence Minister with her recent statement has conclusively proved that this is a government of the suited-booted ,for the suited-booted and by the suited-booted.
Speaking on BJP MLA Sadhna Singh's remark on Mayawati, the spokeswomen said,"She have to apologize for it, these kind of statements displays the ill mentality of their party"
"I find very unfortunate if a woman speaks like this against another woman".