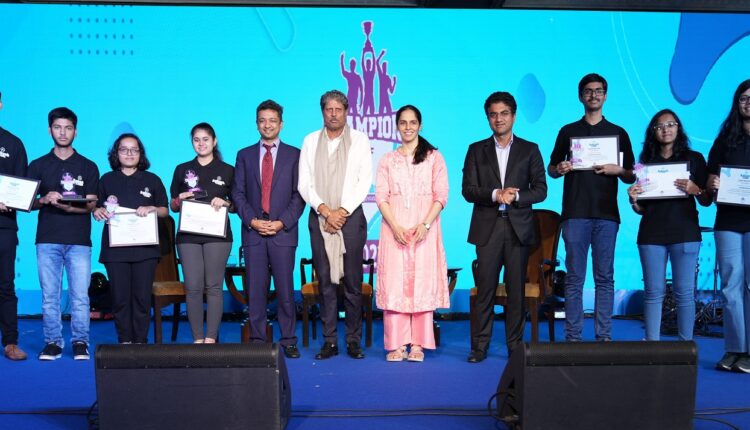 Aakash BYJU'S Felicitates Students Who Aced NEET & JEE (Advanced) 2022

New Delhi, September 24, 2022: At a glittering celebration held at the Taj Palace in New Delhi last evening, Aakash BYJU'S, the national leader in test preparation services, felicitated its students who were among the Top 500 rank holders in the NEET and JEE Advanced Examinations 2022. Aakash BYJU'S honoured all-India rank holders from one, two-year and four-year programs across India. 
A total of 80,918 students from Aakash BYJU'S qualified for the prestigious NEET 2022, registering one of the finest scores ever.  And for the third year in a row, Aakash BYJU'S students have achieved a historic accomplishment, with two students becoming national toppers securing AIR 02 and 03 by scoring 715/720.
In addition, 1,872 outstanding students from Aakash BYJU'S performed admirably in JEE Advanced. Tanishka Kabra made history by being the All India Girl Topper and IIT Delhi Zone Topper by achieving AIR 16.
The 'Champions of Aakash BYJU'S' felicitation event was attended by Aakash BYJU'S top management, faculty from across the country, and meritorious students along with their parents. The event included a conversation with ace sports celebrities Kapil Dev and Saina Nehwal, as well as a talk by Mr Aakash Chaudhry, Managing Director, Aakash BYJU'S and a special performance by Sayli Kamble (Indian Idol Winner) and Mohammad Faiz (Superstar Singer Winner).
Addressing the gathering, Mr Aakash Chaudhry, Managing Director, Aakash BYJU'S, said, "My hearty congratulations to all the rank holders. Our thoughts and wishes will always be with you. You now know that your success is a product of your disciplined effort. And you were able to put in the required effort because you had a distraction-less environment. It is my sincere hope that you will carry these lessons throughout your life, and achieve success in all spheres. But do remember that while gaining knowledge and adding various competencies are important, it is your attitude and behaviour that are going to determine your success in career and life. Hence, always strive to be a topper in values as well." 
Mr Chaudhry also talked about the methods and concepts of coaching at Aakash BYJU'S. He said that during the pandemic-hit academic years, Aakash BYJU'S walked the extra mile to turn students into top percentile scorers in NEET and JEE. "We stepped up our digital presence to be always available for our students. We made study materials, and question banks accessible online. We conducted several virtual motivational sessions and seminars on exam preparation and time management skills. It is heartening to see our efforts paying off, as evident from the score sheets of our students, many of whom are well on their way to get admission in a top government's college to pursue higher studies of their choice." 
In their chat with students, Haryana Hurricane Mr Kapil Dev and World Number One Badminton Player Ms Saina Nehwal exhorted the students to always strive to achieve their goals through hard work, perseverance and following the advise of their parents and teachers. "If studies or anything in life becomes a pressure, then it will cease to give results. Pressure has to be converted into pleasure to enable you to make success happen. It is with pleasure only that you can achieve your goals. Apart from that, listening and following what your elders tell you – be it parents or teachers, remaining disciplined and working hard will help you in your journey to success," they said while recounting their journey to success.
Aakash BYJU'S presented the toppers in various categories with awards and cash prizes. A large number of academicians, students, and parents attended the felicitation event.