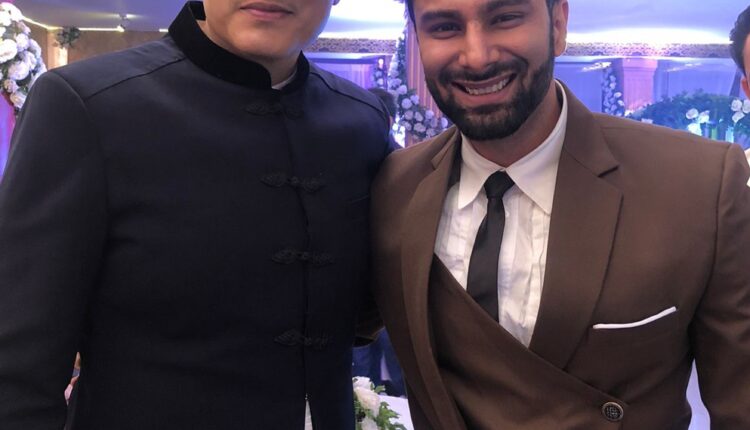 Abhinav Kapoor and Cezanne Khan reunite in Sony TV's Mahasangam Saptah
Sony Entertainment Television that started the 'Mahasangam Saptah' on a high note with the two shows Bade Achhe Lagte Hain 2 and Appnapan… Badalte Rishton Ka Bandhan will see a reunion of sorts. During the shoot of these special episodes, Abhinav Kapoor, who plays Vikrant Arora in Bade Achhe Lagte Hain 2 and Cezanne Khan who plays Nikhil in Appnapan… Badalte Rishton Ka Bandhan) will come face to face during this special week. What is even more special is the fact that Abhinav started his television journey with Cezanne! Both of there were completely mesmerized meeting each other and relieved the good ol' days of working together.
The Mahasangam Saptah revolves around Vikrant and Sara's wedding celebrations that is set to take place in Meerut as Vikrant wants to visit his extended family there. Using this opportunity to clean up Ram's image in front of the media, the entire family agrees with Vikrant's plan. At the behest of Priya, Pallavi and Nikhil's restaurant 'Amma's kitchen' will get their first big order to cater food for the wedding ceremonies as Pallavi was a great help to Priya when she and Pihu were in Meerut. Amidst all the preparations, Pallavi will find herself in a humiliating situation as one of Nikhil's sous chef misbehaves with her and puts the entire blame on her showing her in the bad light. Making things more difficult is when Nikhil supports his own staff against Pallavi. Will Pallavi be able to restore her reputation by proving herself innocent? Will Priya and Nakul be able to come closer as they try to help Pallavi? The answers to this question is definitely going to pique the interest of the audience in the Mahasangam Saptah.
Talking about their get-together actor Abhinav shares, "I started my television journey with Cezanne where I essayed the role of his son. He has always been a role model for me, and I have always seen him as a hero and an elder brother. I have keenly observed his work. When I learned that the channel and the production house are planning the Maha Sangam episodes of these two very unique shows, I was enthralled as after almost 15 years I was going to get a chance to work with Cezanne again. I am overjoyed and feel privileged, once again, to have had the chance to work with him. We had a lot of fun while shooting and all those old memories were relived."