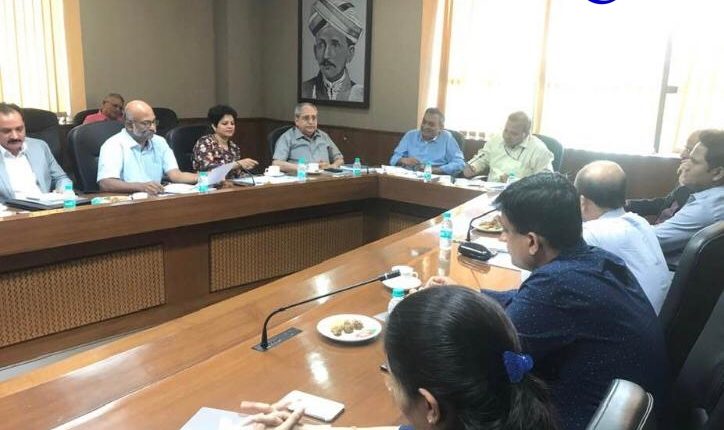 Greater Noida (31/05/2019) : All India Council for Technical Education (AICTE) recently conveyed a meeting of EPSI, AIMS and leading PGDM institutions to discuss the issues related to demand of graded autonomy to PGDM institutions.

During the interactive meeting chaired by AICTE office bearers, key educationists of the country shared there views on the issue and requested the union body for a rapid implementation of the notification issued by it in this regard.
The recently held meeting which was presided by Dr Janat Shah and modered by Dr Rajiv Kumar,Advisor,PC Bureau, witnessed attendence by directors and deans of leading bschools and good suggestions were given for an effective implementation of the autonomy notification.
Some of the eminent management educators who expressed their views were Dr Atmanand, Director,MDI, Gurugram,Dr Himadri Das, Director,IMI,New Delhi, Dr Hitesh V Bhatt, Director,IRMA,Anand,Shri Sunil Verghese,XLRI,Jamshedpur,Dr Jitendra Kumar Mishra, Dean,WeSchool,Mumbai,Dr Vinod Madhavan,Dean,TAPMI,Dr Sheeba Kapil,IIFT,Dr Modh, Director,Vesim Business School ,Mumbai Dr Biswal,MDI and Dr Pooja Jain,JIMS,Rohini.
On behalf of EPSI and AIMS, Dr H Chaturvedi requested AICTE authorities for an expeditous implementation of the existing notification with minor modifications in the drafting.
To conclude ,Dr Rajeev Kumar, Advisor has invited suggestions from all PGDM institutions on existing notification by June 5,2019.
Most academicians believe that the functioning of AICTE has changed its track and working style after an eminent educationist Dr Anil D Sahasrabuddhe took over as it's chairman in 2016. He has resolved a long pending legal tangle of PGDM institutions and given a sympathetic consideration to the demand of EPSI and AIMS for granting autonomy to good schools. This process was further expedited when Dr Janat Shah , Director,IIM,Udaipur joined as Chairperson, All India Board of Management Studies at AICTE.
Two years back,on April 29,2017 a group of deans and directors from leading bschools held a long discussion with AICTE Chairman Dr Sahasrabuddhe and Dr Janat Shah on the issue of granting greater autonomy to accredited good quality PGDM institutions.
In the above background, AICTE has issued a Gazette Notification on January 24,2019 on Greaded Autonomy to PGDM institutions.