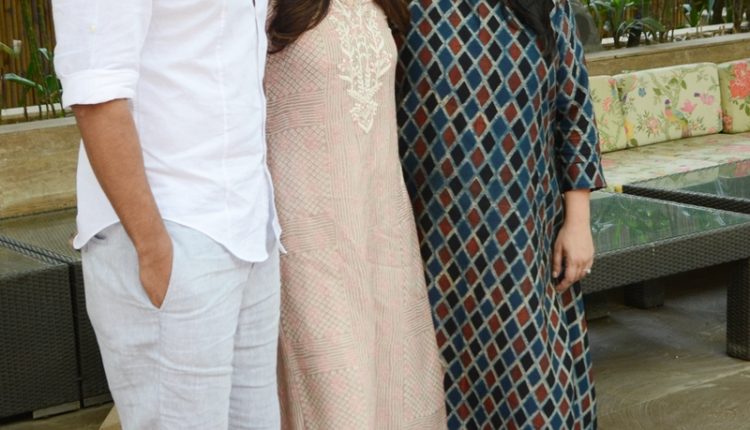 Alia Bhatt, Vicky Kaushal promote Pak Spy thriller "Raazi" in New Delhi!
PRERIT CHAUHAN (PHOTO/VIDEO BY SAURABH SHRIVASTAVA)
New Delhi:  Alia Bhatt's character Sehmat on screen will be defying a conventional spy in an action-thriller genre flick and Vicky Kaushal will be seen playing a Pakistani army man and husband to Alia Bhatt's character in Meghna Gulzar's next Raazi.
Ever since the Raazi trailer launched, the film has become the talk of the town. What makes it one of the much-awaited projects of the year is not only the subject but the incredible star cast Alia Bhatt and Vicky Kaushal, who collaborated with acclaimed filmmakers Meghna Gulzar and Karan Johar.
On Tuesday, both the talented actors were witnessed at Hotel Le Meridien in Nations' capital for the promotions of their film. Along with them the director Meghna Gulzar was also seen promoting her directorial venture.

Speaking about her character, the gorgeous Alia Bhatt said, "I think in Raazi, the audience will see me in a completely different avatar. At least that is my wish because Raazi as a film is very different. It's the first time I am doing a period film and is based on the true story as well, so I am very excited for it and I hope the audience will like it," Alia said at an event earlier."

"When you are part of a true story, you automatically feel a sense of responsibility even though you have never really seen the real-life character. Once you crack the way this girl Sehmat spoke, everything is done for you. Because the way you speak is a very big part of your personality. I decided to start her off at the most basic level of niceness and then take her graph from there," added Alia.
Talking about playing a Major in Pakistani Army in Raazi, Vicky Kaushal said, "It was intresting to understand Iqbal Sayed not just as an army man but as a human. We are conditioned to believe that the hero is always a man, but it might not necessarily be so. A hero could be anyone who does something heroic, irrespective of the gender. I am proud to be a part of this beautiful story, which needs to be told. We should know about anonymous people like Sehmat, who put the nation before themselves, that's real bravery, sincerity and patriotism. Also, Meghna is known for dealing with subjects in a sensitive and responsible manner. I admire her for the topics she chooses."
Based on the book, "Calling Sehmat" by Harinder Sikka, Raazi will hit the screens on May 11.