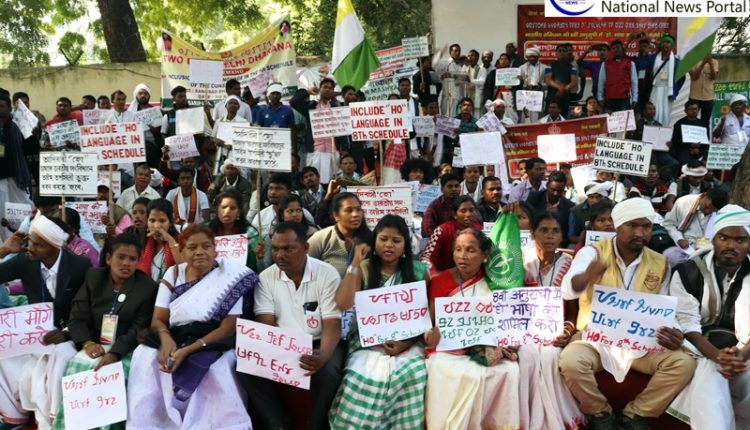 All India Ho Language Action Committee Stage Protest in Delhi, demands inclusion of 'Ho' language in 8th Schedule
Vishal Malhotra (Photo/Video) By Lokesh Goswami Ten News

New Delhi : Today, the members of 'Ho' social organizations of East singhbhum district of Jharkhand state under the banner of Aadivasi Ho samaj yuva mahasabha & All India Ho Language Action Committee, protested regarding inclusion of 'Ho' language into the 8th Schedule of the Constitution of India.
'Ho' language is derived from Austro Asiatic Munda Language family which is spoken by the most indigenous 'Ho' people of this country. It is one of the most important and orally, literary rich language amongst the Schedule Tribes of India.

Before the British regime the 'Ho' speaking people were known as 'Kol' and their population is highly concentrated in the states of Odisha, Jharkhand and West Bengal. Also a sizeable numbers of 'Ho' speakers are residing in Bangladesh. From the point of population it's more than 25 lakhs in our country and it shares overwhelming majority of the Indian tribal population. Apart from tribes there are also large numbers of non tribals living in close proximity with 'Ho' speaking tribes since long time in rural areas who use 'Ho' language in their day to day life. So in reality the total number of 'Ho' language speakers is much more than the available records.
General Secretary of All India Ho Language Action Committee speaking to Ten News said,
"It's an independent aboriginal language and doesn't depend on any other languages of India. The 'Ho' language has its own script named "Warang Chiti" and many Magazines, Periodicals, Dictionaries, Literature, Grammar, Text Books, Drama, Word Books, Calendar, Biographies, Myths, History, Social Sciences etc. have been published in 'Ho' language. Above mentioned literary pieces are written in Oriya, Devnagiri, Bengali and Warangchiti Script."
"The National Democratic Alliance in 2003 has made landmark 102nd Amendment to include two predominant tribal languages namely Santali & Bodo into the 8th Schedule of Indian constitution. The NDA-1 has been appreciated for creating separate states like Jharkhand and Chhattisgarh with major tribal population and separate independent Ministry of Tribal Affairs. Hence, high hope has arisen after formation of NDA-2 government in 2014 among the Ho speaking community." He added.