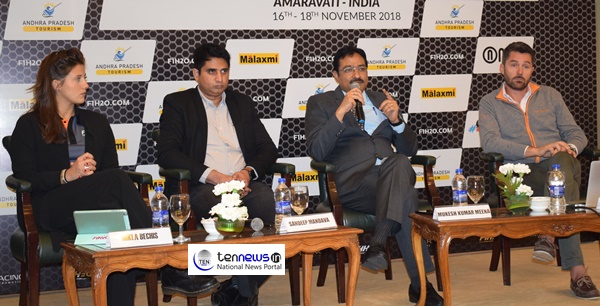 New Delhi: The Fifth round of F1H20 Wortd Championship is all set to be held for the very first time in Amaravati, the Capital of Andhra Pradesh. AP Tourism Authority is hosting this grand event that will put the people's capital on the world map soon. The team which last raced in 2004 in Mumbai is making a come back after a decade plus long hiatus. River Krishna will see some extreme action
extreme action on 17th and 18th of November, which will become a taking point for the wortd of sport. Jonas Andersson and Erik Edin two key race drivers from Sweden will be representing Team Amaravati.
The F1H20 team is actively coordinating With India Xtreme Adventure Activities Private Limited of Malaxmi Group, who are the local partners of F1H20. Due reconnaissance has been conducted in the matters of logistics and planning along with AP Tourism to establish appropriate arrangements with ground plan and layout.
On Wednesday, A Press Conference was held in New Delhi, where the AP Tourism
Department along with the international team and local organizers explained more about the oncoming race. Mukesh Kumar Meena IAS, Secretary, Andhra Pradesh Tourism Department, Marco Pietrini, Director of Logistics, F1H20 and Sandeep Mandava, CEO, India Xtreme Adventure Activities Private Limited gracedthe occasion.
Speaking to Ten News, Sandeep Mandava Said, "The idea is to spread the word about the prestigious world championship while talking about other important updates pertaining to ongoing developments for the race. Guests from both national and international regions are expected to travel to Amaravati to witness this magnanimous sporting event."