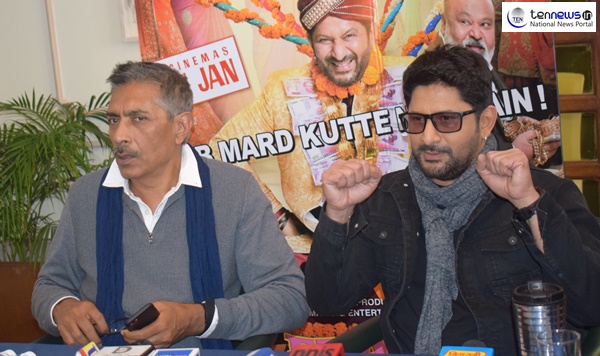 Arshad Warsi and Prakash Jha promotes their upcoming comic caper 'Fraud Saiyaan' in Delhi!
PRERIT CHAUHAN ( PHOTO/VIDEO- JITENDER PAL) 15/01/2019- TEN NEWS
New Delhi ( 15/01/2019) : The much-awaited movie of Arshad Warsi, starrer Fraud Saiyaan will be releasing this Friday. The story of the movie portrays lead actor Arshad Warsi as a conman who marries women in different cities and loots their wealth untill table turns on him one day and he is made to repent his actions by a badass woman.
On Tuesday, Producer Prakash Jha, And Lead Actor Arshad Warsi witnessed in Delhi for their upcoming movie
Fraud Saiyaan and said it is a typical Hindi heartland comedy entertainer.
Speaking to Ten News Exclusively, Arshad Warsi said, "I do films purely based on if I like the script. It doesn't matter if there are two, five or 10 heroes. The last film I found interesting was Jolly LLB, to be honest, and then this."
Producer Turned Director, Prakash Jha said, "People definitely feel that I make serious and political films but I feel there is comedy in every film. This film has great comedy and now we all know that there is lot of comedy in today's politics."
The comic caper is all set to release on 18th Jan 2019.