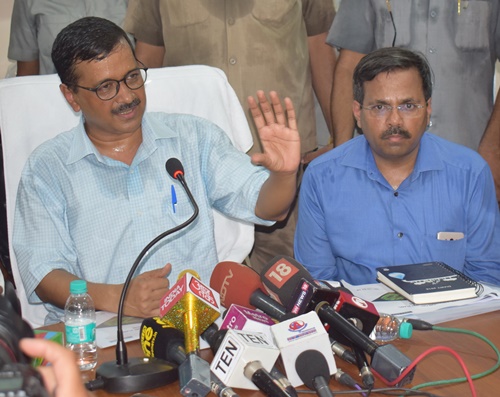 New Delhi: Delhi Chief Minister Arvind Kejriwal Today visited Coronation Plant, Burari to take the stock of the situation.
Arvind Kejriwal also planted a tree at the site.
After getting briefed about the project at Coronation Plant site, Burari, Delhi. Arvind Kejriwal addressed an important Press Conference.
Addressing the Media, Kejriwal said,
"Singapore Model 150MGD water from Coronation and Rithala Sewage treatment plant to be poured in Yamuna at Palla (Delhi-Hry border). It will cover 11km while getting purified naturally along the river course. Will be retreated at Wazirabad WTP & fed. Two new water treatment plants (50MGD at Dwarka and 150MGD Chandrawal) to accommodate additional water."
He further said,
"Canal bringing Ganga water from UP to be made concretized. Estimated 150MGD water to be saved from GangaNahar. Consultant being appointed and 200 water bodies to be revived and bore wells to be installed at their periphery. DJB argues that lakes will compensate for ground water extracted (600 lakes have been identified for future).70 bore wells are being installed at Palla. Will contribute additional 10MGD water."
"Water quality to be tested in areas which have high water table.Borewells to be set up in cooperation with RWA to extract water. Mini-STPs would be set up to conserve water table.Strict enforcement of rain water harvesting installation regulations in Govt institutes. People are doing their bit. We will tap maximum amount of rain water by next monsoons," added Kejriwal.
When questioned on problems with land availability to revive enroached lakes, Kejriwal, while smiling, said "will seek help from LG"