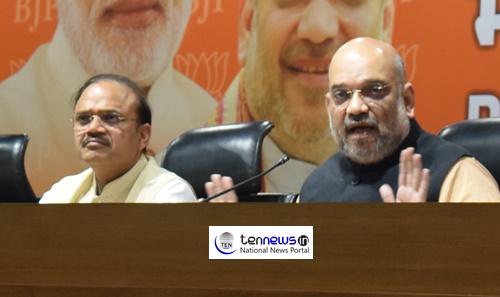 New Delhi: BJP national president Amit Shah on Tuesday said that Assam's first National Register for Citizenship (NRC) draft is a key to secure borders and said that despite all hurdles BJP is committed to deliver it.
'NRC is the only way to secure our borders with Bangladesh. Opposition parties like Congress, TMC and others creating hue and cry over the issue to take political gain.
Amit Shah showed his gladness on first draft of NRC. NRC is the sole of Assam accord, which was signed by the then Prime Minister Rajiv Gandhi to wipe out illegal migrants from Assam but today Congress is opposing just to gain some votes.
'After the Assam Accord, Congress were in power for long but never tried to prepare NRC list but as BJP came to power in the state we started it and committed to flash our illegal migrants through NRC, said Shah.
Speaking on 40 lakh missing names he assured that no Indian citizen either from Assam or other states will be left out. 'Opposition parties are spreading lies that names of Indian citizen are missing from the draft, it might happen because it is a first draft, but a lot of work is yet to be done. Amendment, cross check, claims by the senior officials is yet to be done, but I assure no Indian citizen will suffer.'
On asserting tone he said that Congress, TMC and other political parties should clear their stand on NRC and border security.