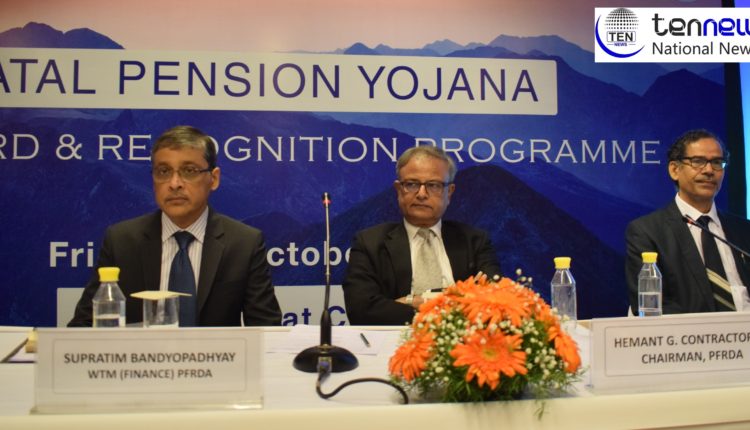 New Delhi: APY (Atal Pension Yojana) today organised an award ceremony at India Habitat Centre for various banks across India for promoting the government's pension scheme.
Atal Pension Yojana (previously known as Swavalamban Yojana) is a government-backed pension scheme in India targeted at the unorganized sector. It was mentioned in the 2015 Budget Speech by Finance Minister Arun Jaitley and launched by Prime Minister Narendra Modi on 9th May in Kolkata. As of May 2015, only 20% of India's population had any kind of pension scheme which this scheme aimed to address.
Hemant G. Contractor, Chairman, PFRDA shared some facts about APY, saying:
"The subscriber base in APY has grown manifold to reach the current position and APY is offered by all the banks and post offices. Across the country, 1.60 lacs branches which includes 20 thousand post offices offer the services of opening APY account for their customers. Out of this branch network, nearly 90% of the branches have mobilised one or more APY account in the last 3 years. Till date nearly Rs. 5000 crores of contribution have been collected under the scheme."
K. Mohan Gandhi, General Manager, PFRDA addressed the audience present at the award ceremony with a presentation which said that the Atal Pension Yojana's (APY) subscriber base was nearing 1.20 Cr in September 2018, and that a major share of acquisition is through outreach campaigns launched by DFS/PFRDA and associated participation backed by sound monitoring done by the top management of Banks. During the current FY 2018-19, 23 Lac Accounts have been mobilized under the APY.
Speaking to Ten News, Hemant G. Contractor said:
"Our Pension scheme is catching a great speed now. We have now reached people around 1 crore 20 lakh and now we are targeting the villages that are not in reach of various things that a person should get access to."
When asked by Ten News about the age issues for this pension scheme, Supratim Bandyopadhyay said:
"This is a government scheme and we cannot amend any of the instructions given by government but we have applied for bringing change in the age factor for this pension scheme and we are hoping for the best outcome."