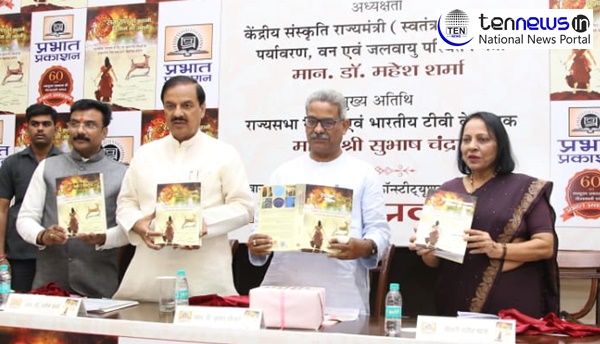 New Delhi: Today, renowned Indian religious and archaeologic author Saroj Bala inaugurated her new write up named "Ramayan ki Kahaani, Vigyan ki Zubani", in the presence of BJP politician Mahesh Sharma and Joint General Secretary of RSS, Dr. Krishna Gopal. This book establishes fact from the Ramayan with the help of present day scientific innovations.
Saroj Bala, who previously wrote a book named "Historicity Of Vedic And Ramayan Eras", is one of the most eminent religious writers in India. While dressing the book launch ceremony, Saroj Bala said,
"Even science has proved many of the facts that were mentioned in Ramayan to be true and trustworthy. The bridge that was constructed by the people of Lord Ram for reaching Lanka is now visible from satellite view. Archaeologists have calculated that approximately 7,000 years ago, the bridge was strong enough for walking. Today after thousands of years, when people hear about the Ramayan for the first time, they find it useless and disinteresting. We should feed our coming generations about our country's history and religious background."
Mahesh Sharma is an Indian politician belonging to the Bharatiya Janata Party. He was elected in the Indian General Election 2014 from Gautam Buddha Nagar and is a physician by profession. On 12 November 2014, he was appointed as a Minister of State for Culture and Tourism and Civil Aviation.
Mahesh Sharma, on the occasion said,
"Ramayan is the most religious book of our nation, and with the day by day expanding wave of our new generations, we should keep all our religious talks and information along with them till the end because all those write ups that were mentioned in Geeta, Holy Bible, Ramayan or any other religious book always proved to be real and helpful."
Dr. Krishna Gopal is a Joint General Secretary of Rashtriya Swayamsevak Sangh. Krishna Gopal, having done Masters in Environmental Science from Agra University, obtained doctoral degree from Council of Scientific and Industrial Research. Dr. Krishna Gopal hails from Mathura of Uttar Pradesh. After having looked after Sangh's work in various places of UP, Krishna Gopal moved to North-East to oversee the RSS work. He served as Kshethreeya Pracharak (regional organiser) in North East for nine years.
Addressing the inauguration of the book "Ramayan ki Kahaani, Vigyan ki Zubani" by author Saroj Bala, Dr. Krishna Gopal said,
"Britishers ruled our nation for hundreds of years and made our people believe the uselessness of religious books and talks. As a result, today, in caparison to the time we lived before independence and even before britishers ruled our nation, the importance of these religious books has vanished somewhere in today's society where a man's only duty is to keep running."