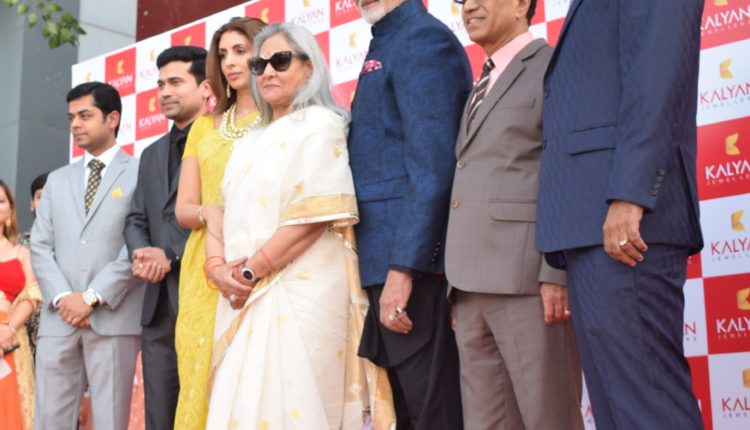 Bachchan Family Inaugurates Kalyan Jewellers Flagship Outlet in Delhi!
Prerit Chauhan (Photo & Video) By Rahul kumar jha
New Delhi: Festivities marked the launch of Kalyan Jewellers Flagship showroom in the upmarket South- Extension neighborhood of New Delhi. Bollywood Megastar Amitabh Bachchan, the Brand Ambassador for Kalyan Jewellers along with Jaya Bachchan and his daughter Shweta Bachchan Nanda graced the launch of Kalyan Jewellers largest showroom in the Delhi-NCR region.
Kalyan Jewellers, which is one of India's largest jewellery brand is present at 8 locations in the Delhi NCR region including the first flagship showroom in North India.
Shweta Bachchan Nanda has recently come on board as the face of Kalyan Jewellers customer centric initiatives. T.S Kalyanaraman, Chairman and Managing director of Kalyan Jewellers along with Executive Directors Rajesh Kalyanaraman and Ramesh Kalyanaraman were also Present at the Occasion.
Speaking on the occasion, T.S Kalyanaraman, Chairman and Managing director of Kalyan Jewellers said,
"Our flagship showroom will give our customers a superior value proposition
With the assurance of the best of quality and the highest service standards. With an investment of around Rs. 125 cr, this showroom reiterates our commitment to grow our presence in the country. The launch is the beginning of the second phase of expansion for which a budget of Rs. 1OOO cr. has been earmarked for 20 showrooms during this fiscal."