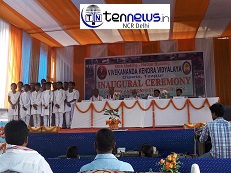 Bajaj Electricals supports solar powered computer training Centre for Vivekanand Kendra Vidyalaya, Tezpur, Assam
Assam, 26th July, 2016: Bajaj Electricals under its CSR initiative has supported and helped to start a solar powered computer training center for quality and effective education for underprivileged students of Vivekananda Kendra Vidyalaya, Tezpur, Assam. This is one of its kind which has been initiated in North Eastern Region by the company. It is envisaged that the project is going to benefit more than 400 students coming from local tribes & non tribes under Binduguri Panchayat in general and girl students in particular.
Vivekananda Kendra, Kanyakumari is one of the largest social organizations, founded in 1972. They have a network of 55 English medium school spread over Assam, Nagaland and Arunachal Pradesh and provide education to children who would otherwise lack access to it owing to their poverty implications.
In order to provide modern education to the students, Vivekananda Kendra Vidyalaya approached Bajaj Electricals Ltd.  Mumbai, to support the new 'Computer Training Centre', which has been powered by Solar PV(photovoltaic) energy system in conjunction with grid supply.
At the Vivekananda Kendra Vidyalaya School in Tezpur Assam, the school suffered from severe electricity shortages, and is reliant only on the power grid that supplies power only for a few hours per day. With such limited and inconsistent access to power, children were not able to study computers properly. It has also been observed that the students of the school currently have no means to access computers in school or outside.
Therefore, BEL provided solar hybrid system to create a solar computer lab for enhanced learning opportunities for the students. Provision of such low-cost, energy efficient and sustainable learning solution to the underprivileged learners in rural areas and access to educational resources through technology can exponentially increase their chances and quality of learning and employability.
The inauguration ceremony of Solar Powered computer centre took place on 24th July 2016 at Vivekanand School Tezpur, Assam. The occasion was graced by Shri Ram Prasad Sharma (M.P – Tezpur Constituency ) Mr. Pravin Dabholkar (Joint General Secretary), Shri A.Balakrishnanji (Vice President, Vivekananda Kendra Kanyakumari ) Shri Dipok Kumar Bothakur (Anchal Pramukh,Uttar Purbanchal) Ms. Reboti Devi (Joint Secretary) and Mr. Dipankar Dutta (BSSM Bajaj Electricals Ltd Guwahati) along with the Students of the school.
Mr. Shekhar Bajaj Chairman & MD said, "Bajaj Electricals is committed to work for the betterment of the society and providing access to modern education to school going children like computer training which is the need of the day. Through our CSR initiatives we are happy to support Vivekananda Kendra in the North East to establish a hybrid solar powered computer training centre in the school at Tezpur, Assam where children can study uninterrupted as we believe no child should be left behind in having access to proper education."
 "In fulfillment of the purpose of taking the message of Swami Vivekananda to common people Vivekananda Kendra, Kanyakumari conducts Vidyalayas in Assam for imparting Man Making Education for rebuilding Bharat to guide the World. VKV Tezpur is latest addition initiated in 2009. Adequate infrastructure enables congenial environment to be created. Bajaj Electricals Ltd has graciously added to our efforts by Sponsoring Computer Laboratory in VKV Tezpur," said Chief functionary of Tezpur School
 About Bajaj CSR:
The CSR activities at Bajaj Electricals are guided by the 4 pillars – sustainability, diversity (gender inclusion), employee volunteering and community outreach. Our priorities for the Community Outreach Programmes are ensuring Environmental sustainability & promoting its Education, Employment, enhancing vocational skills and livelihoods, Promoting Preventing Health Care, Promotion of Arts and Culture.
For media queries:
Kevin Braganza- 9819156735, kevin.braganza@ketchumsampark.com
Kiwishka Prasad – 7506861969, kiwishka.prasad@ketchumsampark.com