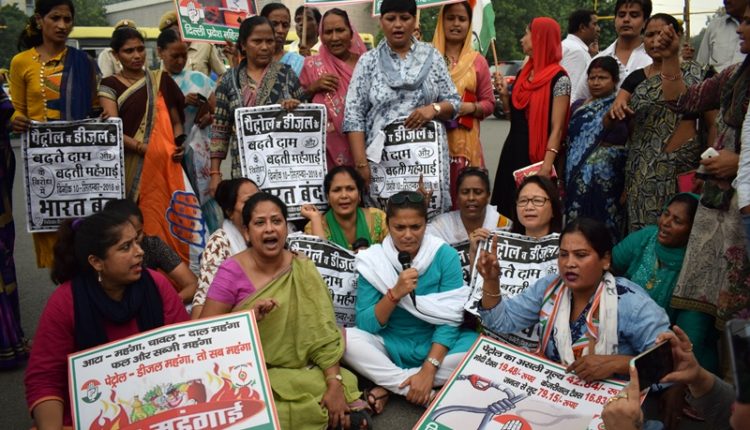 Bharat Bandh: There has to be immediate roll back of the fuel prices, Says Sharmistha Mukherjee
Prerit Chauhan (Photo/Video) By Lokesh Goswami Ten News Delhi :
New Delhi: Normal life was affected in National Capital on Monday due to the Bharat Bandh called by Opposition groups over rising fuel prices. Some shops and business establishments including banks and educational institutions were closed in some parts of the country.
Delhi Mahila Congress on Monday staged a protest at ITO Chowk, Delhi regarding price hike in Gas, Diesel and Petrol prices.
Fuel prices have been witnessing a hike in several states across the country over the past few weeks which has enormously effected the common man said, Congress leader Sharmistha Mukherjee.
Sharmistha Mukherjee, Chief of Delhi M ahila Congress speaking to Ten News said,
"There has to he immediate roll back of the fuel prices. The central excise duty shoule be cut down and in the BJP ruled government the VAT should be cut down too. We are also protesting against Kejriwal government who has hiked up the VAT two times. It is absolutely unbelievable the petrol and diesel prices they have touched a record high and the people are suffering."
She Further said, "How come this deaf and mute government absolutely indifferent and apathetic to the suffering of the people so that's why we are staging this protest. Whenever there is a hike in petrol and diesel prices it effects the general inflation it affects the food inflation and it goes high that's why the Delhi Mahila Congress committee women are out on the streets. Every women has a house budget and everything gets affected."
She further said, "Shockingly there are more number of police than protesters. Delhi police would do well to show such alertness to stop rising crimes against women in Delhi rather than stopping their peaceful agitations. Shame on Modi Government and Delhi police," added Mukherjee.