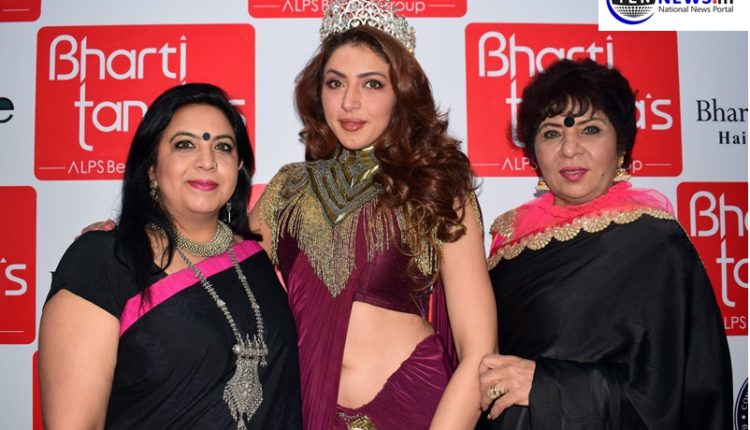 Bharti Taneja's Academy showcase their makeup skills at the 10th International Beauty & Spa Expo
Abhishek Sharma / Lokesh Goswami
New Delhi, (7/5/2019): Bharti Taneja's Alps Beauty Group's Exhibition grabbed the attention of visitors during the 10th International B eauty & Spa Expo at Pragati Maidan in New Delhi. Event was created as a "mini global beauty world" for the beauty professionals this time.
From innovative theme to a grand design, the stall exhibited a wide range of workshops on products, courses and latest trends. Three key features that made the stalls a must visit were, Exclusive launch of Bharti Taneja's Facial Kits, exciting Makeup Competitions for students who showcased their talent to the world and detailed insight into CIBTAC Courses that will launch your international career as a beauty professional.
This two-day beauty extravaganza culminated with a Grand Finale and Prize distribution by celebrities from movie, modeling & TV world such as Sandeep Marwah, Ankit Gera, Mia Lakra, Mukesh Tyagi, Sharon Winslet and Ashutosh Kaushik along with the hosts and celebrity makeup experts Bharti Taneja (Cosmetologist & Founder-Director – Alps Beauty Group), Gunjan Taneja Gaur (Permanent Makeup, Salon Management Guru & Executive Director – Alps Beauty Group) and Ishika Taneja (Miss India Tourism, Guinness World Record & Executive Director – Alps Beauty Group). The Facial Kits were launched by powerful female personalities from all walks of life.
"We lined-up exclusive Free Workshops for beauty professionals on various subjects such as hair extension, Permanent Makeup, Communication Skills, Franchise model and many more. The motive of the workshops was to fill you on the latest techniques and trends so that you remain updated in the age of cutting-edge competition".
"To encourage new talent, brand Bharti Taneja organized a series of competition for upcoming beauty professionals. From Fantasy makeup to Bridal makeup, these competitions gave a golden opportunity to new students to showcase their talent to the world and get recognized for their exceptional creativity".