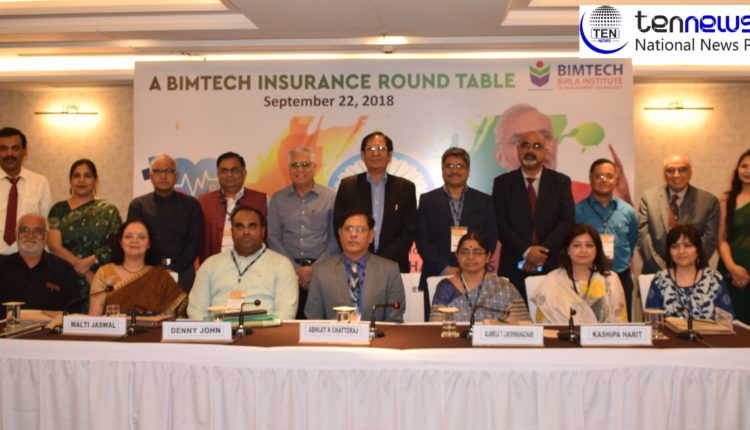 New Delhi: BIMTECH on Saturday organized a Insurance Round Table on Ayushman Bharat at India Habitat Centre, New Delhi. The Theme of the Round Table was "Ayushman Bharat, National Health Protect Mission" with the Sub-Theme "Oppurtunities & Challenges"
The program commenced with the Welcome Address of Dr. H. Chaturvedi, Director BIMTECH, Greater Noida, who set the tone for the discussion. In his Welcome Address, Dr. Chaturvedi said,
"BIMTECH launched first Insurance Program in way back 2000. So that has given us lot of Oppurtunity to connect with this important industry, important sector of our country. Similarly when our faculty colleagues were discussing about research on Ayushman Bharat the major project it is to be launched very soon. I have suggested that let us have a round table because hardly any Conclave or round or conference has taken place in NCR."
He further said, "As far i understand as a lay man the the expectations are high and this government has taken this initiative and the going to provide the benifits of Ayushman Bharat to 50 crore people under poverty line. Those who are having BPL card they will be provided with this insurance. I think a country like India needs to do it because if we claim that we are strong economy and if we say that we are strong nation how can we ignore the responsibilities of the poor people."
The Welcome Address by Dr. H. Chaturvedi was followed by a Panel Discussion on the Topic "Oppurtunities & Challengess". Where the Panelist Disscused the future prospect, issues and challenges on Ayushman Bharat.
The Panel consisted, Alemelu T. Lakshmnachsri, Chairmam Cum MD Agriculture Insurance Corporation of India; Sakthivel Selvaraj Director, Health Economics, Financing and Policy Public Health Foundation of India (PHFI); Nishant Jain Programme Director with GlZ for Indo-German Social Security Programme; Malti Jaswal Senior Consultant with World Bank; Denny John Evidence Synthesis Specialist Campbell Collaboration, Adjunct Scientist National Institute of Medical Statistics, Indian Council of Medical Research; Kashipa Harit Assistant Director, National Accreditation Board for Hospitals and Healthcare Providers (NABH).
The Panel was Moderated by Prof. (Dr.) Abhijit K. Chattoraj, Chairperson-Programme for Insurance Business Management, BIMTECH.