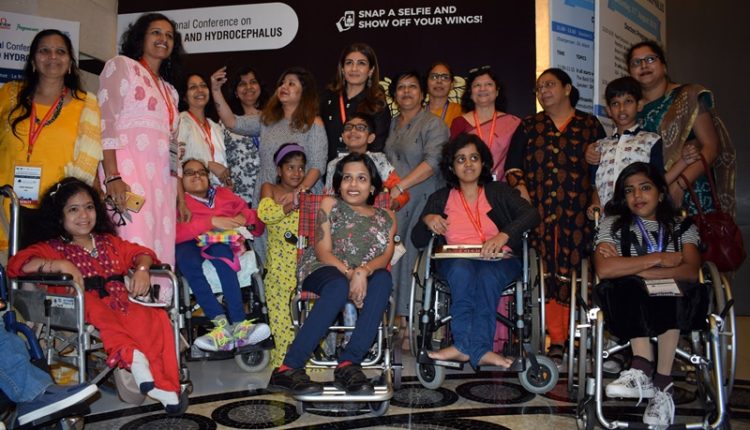 Bollywood Diva Raveena Tandon Graces 28th International Conference on Spina Bifida and Hydrocephalus!
Prerit Chauhan (Photo/Video) By Lokesh Goswami Ten News Delhi :
New Delhi: The Spina Bifida Foundation of India & the International Federation of SB, has organized the three-day long 28th Annual International Conference on Preventive, Antenatal and Management aspects of Birth Defects. The Conference was organized in Asia for the first time.
The three-day International Conference is in association with World Health Organization (WHO) & in collaboration with Meyer Vitabiotics.The Bollywood Diva Raveena Tandon was the Chief Guest of the Inaugural Ceremony.
At the Inauguration, Dr. Santosh Karmarkar, Founder Trustee, Spina Bifida Foundation, Dr. Margo Whiteford, President International Federation of Spina Bifida & Hydrocephalus; Dr. Ajay Khera, Deputy Commissioner for the Child Health Program at the Ministry of Health & Family Welfare, Government of India, Rohit Shelatkar, Director/ Vice President – Vitabiotics Ltd; Founder – Go Folic Campaign were also present alongwith Global Experts from Harvard, CDC (Atlanta), WHO, IFSBH from several other countries and India.
Spina Bifida and Hydrocephalus are the Birth defects result in 40,000 children born with childhood paralysis in India each year. A majority of these cases are preventable. So to spread public awareness, Global Experts from Harvard, CDC (Atlanta), WHO, IFSBH, several other countries and India will discuss various issue related to the Epidemiology, Prevention, Management and Rehabilitation of Birth Defects focusing on Spina Bifida.
Speaking at the Inaugural Ceremony, Dr. Santosh Karmarkar, Founder Trustee, Spina Bifida Foundation, said, "Prevention of Neural tube defects should be an urgent Public health priority for India, which has one of the highest incidences of this birth defect in the world. The Central and State Governments need to take this up on a war footing and like the polio campaign initiate a campaign for awareness regarding prevention of Spina bifida. This has the potential to prevent more than 25000 children born with childhood paralysis in India every year. The foundation also works equally for the rehabilitation of those who are already born with this devastating birth defect"
Bollywood Actress,Raveena Tandon said "I am very concerned at the alarming rate of the birth defect incidences in India. It's unfortunately the highest number in the World. Lack of information is one of the biggest reasons for this defect among the children. Even having simple, easy and economical solution, children are still dealing with lifelong disabilities. Spreading information and making people aware is the key aspects to fight against this problem."