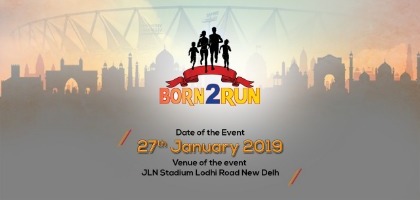 Born2Run Half Marathon set to kick off, Registration open till Jan 20
Prerit Chauhan
New Delhi: With a mission to inspire people to focus on fitness and live a healthy lifestyle, Born2Run set to host the first ever Born2Run Half Marathon on January 27, Sunday at Jawahar Lal Nehru Stadium, New Delhi. The marathon starts at 6 am and will go on till 9 am. The race categories are 5 km, 10 km, and 21.1 km, with a BIB Expo on January 25 – 26. The registration for the marathon is open till January 20, Sunday. The organizers of the event expect around 4000 runners approximately.
The vision of Born2Run is to establish a sustainable, community focused pan-India running event, encouraging athletes and amateur runners to lead healthy lifestyles and further improve their personal fitness through running. The key highlights of the event are its excellent route profile with ample hydration points, medical aid, ample parking facility, enough mobile toilets, planned transport facility and breakfast for the participating individuals.
Born2Run strives to live by the three Sustainable Development Goals of the United Nations:
1) Clean Water & Sanitation
2) Gender Equality
3) Good Health & Well-Being
//youtu.be/kHz2dThekE8
Dr. Sunita Godara, Race Director at Born2Run and an eminent international marathoner of repute speaking to Ten News said, "I am impressed by the message of Born2Run team which is to make people realize that the secret to happiness lies at their feet. It is exhilarating to be associated with Born2Run marathon primarily because running is really close to my heart and this is something I have been propagating all my life. Through this marathon, I look forward to drive the message of health and fitness to my fellow Indians as I can see a lot of cluttered, busy schedules and a sedentary lifestyle as detrimental factors towards achieving a fruitful and satisfactory life."
"I look forward to see a large participation in the Born2Run Half Marathon and hope this will bring a positive change in many lives," added Sunita.
//youtu.be/YKQQH4J4Qyk
Fitness trainer, Ace runner and Goodwill Ambassador, Gagan Arora talking about his role said, "I'm a Goodwill partner so idea for Born2Run was very clear as the the name suggest Born2Run, every human on this earth is born to run. The lifestyle we have now a days have taken a toll on our health. This race should go to every person and we have categories from 21 kms upto 1 km. There is no Chance for anyone who can't Walk or Jog in 1km race."