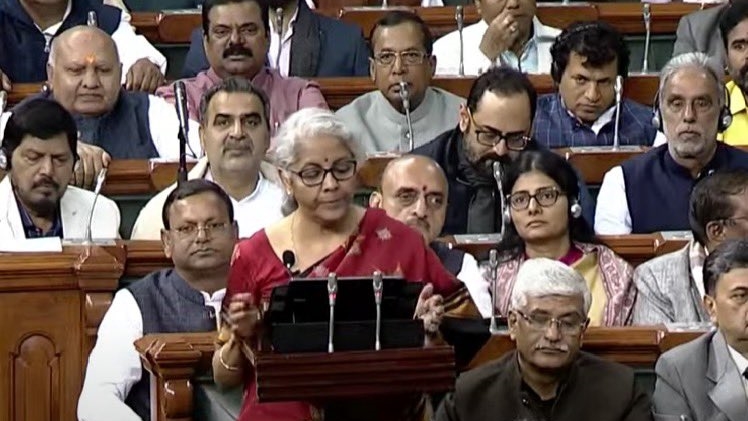 Budget 2023: FM Sitharaman Announces New Income Tax Regime, Check Here
Ten News Network
New Delhi (India), 1st Feb 2023: In her Budget 2023 speech, Finance Minister Nirmala Sitharaman announced a new income tax regime that offers more purchasing power to individuals and some relief to employed taxpayers.

The basic exemption limit has been hiked from Rs 3 lakh to Rs 2.5 lakh, while the rebate under Section 87A has been hiked from Rs 5 lakh to Rs 7 lakh.
Under the new tax regime, the highest tax rate of 30 percent has been reduced to 25 percent, and the threshold limit for the highest tax rate has been increased from Rs 10 lakh to Rs 20 lakh. The proposed highest slab rate (including surcharge and cess) is 35.62 percent.
Individuals with an income of Rs 15.5 lakh and above are eligible for a standard deduction of Rs 52,500 under the new tax regime.
The income tax slabs under the new regime are:
a) Rs 0 to Rs 3 lakh – 0% tax
b) Rs 3 to 5 lakh – 5% tax
c) Rs 6 to 9 lakh – 10% tax
d) Rs 9 lakh to Rs 12 lakh – 15% tax
e) Rs 12 lakh to Rs 15 lakh – 20% tax
f) Above Rs 15 lakh above – 30% tax
Additionally, the new income tax regime is now the default option, but individuals have the option to continue with the old income tax regime.
To further help individuals, Sitharaman announced a one-time small savings scheme called "Mahila Samman Saving Certificate," with an interest rate of 7.5 percent per annum and a maximum investment limit of Rs 2 lakh. It will be available for two years, with a partial withdrawal option.
Lastly, businesses required to have a permanent account number (PAN) will be able to use it as a common identifier for all digital systems of specified government agencies.