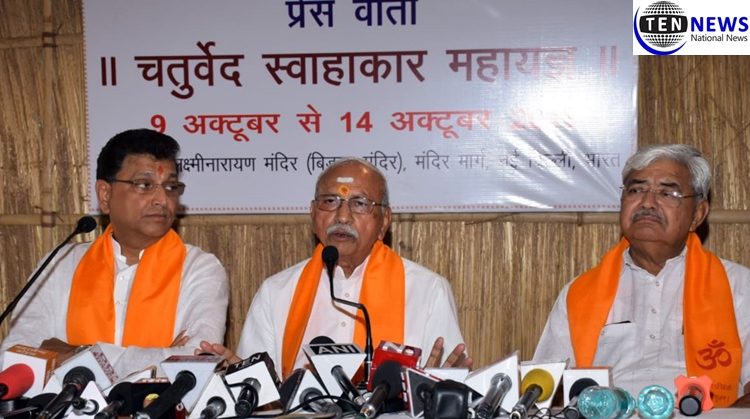 Chaturveda Swahakaar Maha Yagya to be organized in New Delhi, Amit Shah & Rajnath Singh to grace the Yagya
Vishal Malhotra (Photo-Video) Lokesh Goswami Tennews New Delhi :

New Delhi(07/10/2019): Chaturveda Swahakaar Maha Yagya is being organized in collaboration with Ashok Singhal Foundation and Jhandewalan Devi Temple under the aegis of Vishwa Hindu Parishad to make the science of Vedas accessible to the people.
In a press conference organized in this regard, Dinesh Chandra, member of the managing committee of Vishwa Hindu Parishad, Alok Kumar, CEO and Mahesh Bhagchandka, trustee of Ashok Singhal Foundation, told that according to the imagination of Ashok Singhal, his knowledge along with spirituality in Vedas is must to be spread in the country and abroad.
In this event, not only the mantras will be chanted in pure mahayagna by chanting one mantra of Vedas under the direction of the best masters and Vedic scholars of South India, but it will also remove many misconceptions prevalent in the society in the context of Vedas as great people should be motivated for this sacrifice in the whole world.
It was also told that many saints, Mahasants, social, religious, cultural, spiritual and political people from all over the country will participate in the program.
Mohan Bhagwat, Bhaiyyaji Joshi, Krishna Gopal, Speaker of Lok Sabha, Om Birla, Home Minister Amit Shah and Defense Minister Rajnath Singh will be gracing the huge religious event as well.