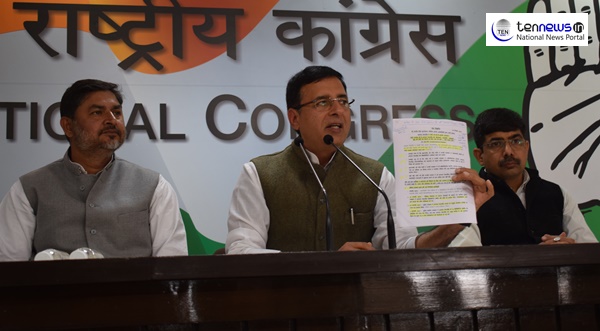 New Delhi (30/12/2018) : Congress Politician Randeep Singh Surjewala slammed Modi Govt. talking about Rafale deal scam and provision of support to the blacklisted company AugustaWestland at the Congress HQ said,
"We are now up with 'Chaukidaar Chor Hai Part Two'. AugustaWestland, a blacklisted company which came to light in early 2013, when an Indian national parliamentary investigation began into allegations of bribery and corruption involving several senior officials and a helicopter manufacturer AugustaWestland surrounding the purchase of a new fleet of helicopters. And Modi Govt. tried very hard to get AugustaWestland free from every charge of corruption."
He added that on 15th February 2013, Congress UPA government filed a case against AugustaWestland and since that day, Modi Govt. have been trying to resolve the matter.
Randeep Surjewala also targeted BJP for the mis-happenings in Uttar Pradesh which were about the murder of high ranked Policemen .
Commenting on this issue, Surjewala said,
"UP is facing loss of important people almost every week. The Bulandshahar incident that happened on 3rd of December when an inspector was killed brutally. BJP is the main face behind all this happenings as one thing is common within the people who were killed, a "Non-Supporter of BJP party".