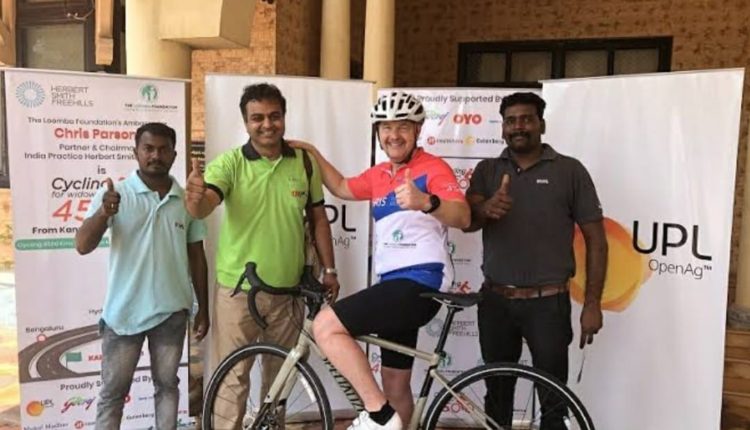 Chris Parsons reaches Varanasi from Kanyakumari via Cycle, trying to raise money for widows
Vishal Malhotra/Lokesh Goswami Tennews New Delhi :
In early 2020, Chris, chairman of international law firm Herbert Smith Freehills India, determined to cycle 4,500km over 45 days from the Kanyakumari in South to Kashmir in North of India.
The flagging off ceremony was held on 2nd Feb 2020 and ride started on 03rd Feb 2020 from Kanyakumari.
Chris' ride had a motto to raise money for the Loomba Foundation and its efforts to support widows and their children through economic empowerment and childhood education.
Jai Shroff, Global CEO of UPL Ltd said while at the beginning of Chris' tour, "We commend Chris on his commitment to undertaking this feat of endurance, and are honoured to be able to support the cause of helping empower Indian women and children through increasing their economic independence and improving access to childhood education."
Let us inform you that the Loomba Foundation is a non-profit, UN accredited, international NGO which helps widows and their children regardless of race, gender or religion.
Foundation aim is to eradicate discrimination against widows, lobby governments to give widows their due pensions and rightful inheritances, empower widows through employment opportunities and educate their children.
The blog maintained by Chris and his team says, "From 3 February 2020, I will be taking on the epic challenge of cycling 4,500km across the entire length of India. Starting on the very southernmost tip in the city of Kanyakumari, I will end up 45 days later in Kashmir, almost in the foothills of the Himalayas!"
Let us inform you, in 2011 Chris was able to raise $200,000 for the Loomba Foundation by cycling from London to Gibraltar. More recently to celebrate 30 years at his firm, Herbert Smith Freehills, Chria walked 30 marathons over 30 days across India and raised $300,000 for the same charity.