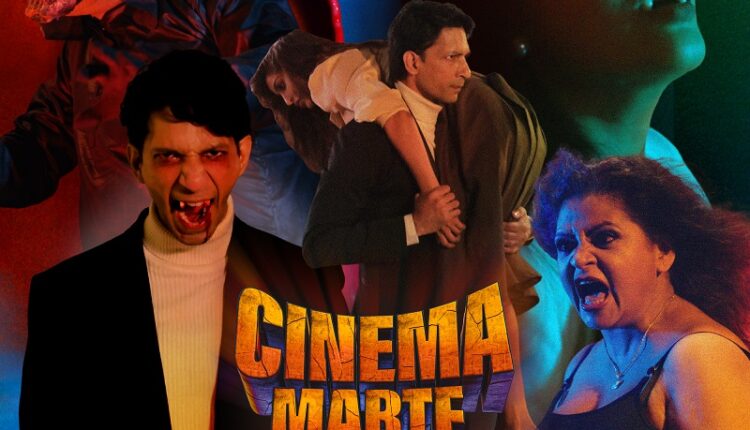 Cinema Marte Dum Tak – Prime Video's upcoming docu-series

Amazon Prime offers an incredible value with unlimited streaming of the latest and exclusive movies, TV shows, stand-up comedy, Amazon Originals, ad-free music listening through Amazon Prime Music, free fast delivery on India's largest selection of products, early access to top deals, unlimited reading with Prime Reading, and mobile gaming content with Prime Gaming, all available for an annual membership of Rs. 1499.  Consumers can also buy Prime Video Mobile Edition at INR 599 per year – the single-user, mobile-only annual plan provides access to Prime Video's entire catalogue of high-quality entertainment and LIVE sports
MUMBAI, India—17 January, 2023—Prime Video, India's most-loved entertainment destination, today announced the global premiere of its unscripted Amazon Original series, Cinema Marte Dum Tak, with the launch of its trailer. The zabardast trailer takes viewers back to the 90s, giving them a never-seen-before glimpse into the fascinating, flourishing and undocumented world of Hindi pulp movies, which boasted of a loyal and strong fan-following across the country. A Vice Studios Production and created by maverick filmmaker, Vasan Bala, the six-episode reality docu-series is a first-ever peek into the dazzling and independent ecosystem of the 90s Pulp Cinema industry. Prime members in India and across 240 countries and territories worldwide will be able to exclusively stream the docu-series starting 20 January on the service.
Cinema Marte Dum Tak takes audiences behind the scenes with four exceptionally passionate directors of that era – J Neelam, Vinod Talwar, Dilip Gulati and Kishan Shah – as they come back for their swan songs, to make a film using the similar budgets and themes from 30 years ago. The docu-series also features actors like Raza Murad, Mukesh Rishi, Harish Patel, and Rakhi Sawant amongst others sharing insights on this lesser-known chapter of the Indian cinema. Actor Arjun Kapoor also make an appearance as a host in the final episode.
"Over the years, movies of the pulp genre have almost become a cult phenomenon for the uniqueness, vibrancy, energy and quirkiness that they are imbued with. Be it conversations on social media or among film fans, this cinema is much followed," said Aparna Purohit, head of India Originals, Prime Video. "The creators, artists, and technicians who contributed to this filmmaking industry had limited resources but were driven by their ambition, vision and an insatiable enthusiasm to make movies. Cinema Marte Dum Tak celebrates the passion and perseverance that was inherent in all those who belonged to the pulp cinema industry. Vasan Bala and Vice Studios have created an intriguing and emotionally engaging docu-series that we are certain will resonate with our audiences across the world."
"Cinema Marte Dum Tak is extremely special to me. I have known of artists and creators from this pulp movies industry, and was always fascinated by the films they made and their world. So, I am glad the docu-series opened up this huge opportunity for me to deep-dive into this world and understand their spirit and psyche. I have to say that the entire team has worked hard to bring the stories of J Neelam, Vinod Talwar, Dilip Gulati and Kishan Shah and tell their journeys- the glory and aftermath with truth and dignity. It was great to collaborate with young and extremely talented minds like Disha (Randani), Xulfee and Kulish (Kant Thakur) to direct the episodes," said Vasan Bala, the creator. "I am confident that audiences are going to love this glimpse into the lesser-known filmmaking industry and I am glad that through Prime Video we can take this era of Indian cinema to a wider audience, across the world."
"For us at Vice Studios, it has always been important to tell untold stories – and this was one waiting to be told. The idea with this reality docu-series is to bring a spotlight on this crazy golden age of 90s pulpy, budget cinema, to tell the story with honesty, authenticity and compassion, and to share to a wider audience, the people, stories and cinema of that time." shared Samira Kanwar of Vice Studios, "We are thrilled that Cinema Marte Dum Tak is premiering worldwide on Prime Video and audiences can now witness the team's labor of love. It has been an extremely eye-opening rollercoaster of a ride creating this docu-series."
So, don't forget to experience the magic and fandom of the Golden era of India's 90s Pulp cinema with Cinema Marte Dum Tak as it exclusively premieres on Jan 20 on Prime Video in India and 240 countries and territories worldwide. A Vice Studios Production, the six-episode docu-series is created by Vasan Bala and co-directed by Disha Randani, Xulfee and Kulish Kant Thakur.