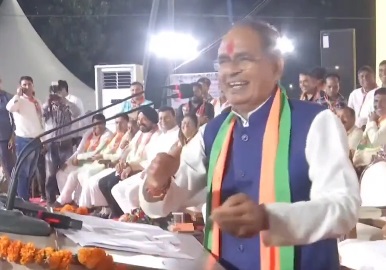 CM Chouhan's emotional speech in home district gives rise to speculation of him being sidelined

Bhopal, Oct 2 (IANS) Chief Minister Shivraj Singh Chouhan's emotional appeal to the people of his home district, Sehore, that they will remember him after he leaves, has led to speculation of him being sidelined.
Chouhan said, "You will remember me when I will leave' while addressing an event to mark the distribution of benefits worth Rs 200 crore to the Tendu leaf pluckers under the Charan Paduka Scheme on Sunday.
Addressing the gathering of women in his signature style, Chouhan said, "Aisa Bhaiya milega nahi, jab mai chala jaaunga, tab yaad bahut aaoonga. (You won't get a brother like me, when I will leave, then you all will remember me a lot)."
The emotional appeal comes at a time when the political circle in Madhya Pradesh is abuzz with speculation about the national BJP leadership sidelining the incumbent CM Chouhan ahead of the Assembly polls.
"I changed the definition of politics, you all have seen the Congress rule for years, was there a similar concern for people in those years. I am not running a government, I am running a family," Chouhan said.
Reacting to the CM's statement, journalist-turned state Congress's media advisor Piyush Babele said, "The CM has actually announced his farewell today, one thing is for sure, we'll remember the scams and misrule of his long rule in MP."
Political circles in MP have been rife with speculation about the central BJP (which is controlling entire poll related activities in Madhya Pradesh) having sidelined the Chouhan ahead of the Assembly polls.
The party's decision to field its seven sitting MPs, including three Union ministers and national General Secretary Kailash Vijayvargiya as candidates from toughest Assembly seats has given fuel to the talks about the party not announcing current Chouhan or any other leader as it's CM face, but instead leaving the race for the next CM wide open for all probable candidates.
The senior leaders fielded as BJP candidates from different Assembly seats, include at least three leaders (whose names have done rounds of party circles as alternatives to the current CM in the past too). Among them are Union ministers Narendra Singh Tomar, Prahlad Singh Patel and national general secretary Kailash Vijayvargiya.
–IANS
pd/dpb