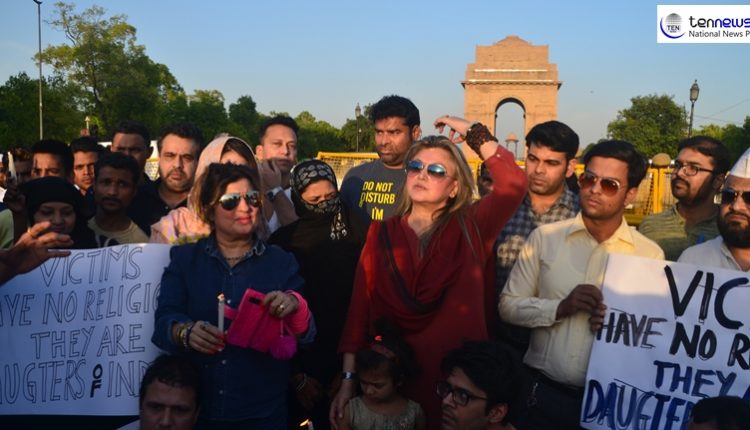 New Delhi: After Terming the rape and murder of the 8-year-old girl in Jammu and Kashmir's Kathua district "deeply unfortunate and shameful", Home Minister Rajnath Singh said that there must be justice for the family of the victim.
Facing political heat over the Kathua and Unnao rape incidents, Prime Minister Narendra Modi also on Friday assured the country that no culprit would be spared and complete justice would be done. "Our daughters will definitely get justice," said the Prime Minister.
On the other hand Celebrities are expressing their outrage and demanding action following the rape of a teenager in Unnao, Uttar Pradesh and an eight-year-old girl in the northern Indian state of Jammu and Kashmir.
On Friday, People displayed placards as they took part in a candlelight march at the India Gate in protest over Kathua gangrape case in New Delhi.
The protest was organised by New Bharat Foundation(NBF) and 2 hours of "nirjal upwaas" was done to express anguish at crime against women. The Protest was lead by the TV Celeb Dolly Bindra.

Speaking to Ten News, Bindra Said, A 8 year old is drugged, raped & murdered and another one is fighting for justice for herself and the death of her father in custody. We have a choice either raise your voice or be a silent spectator.
Stand up for what is right even if you are standing alone.we demand a fair investigation".