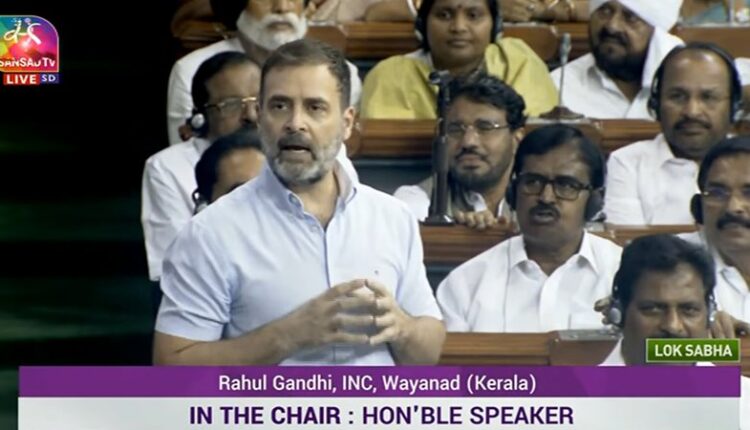 Congress Alleges Bias: Sansad TV Accused of Limiting Rahul Gandhi's Screen Time During No-Confidence Motion
TEN NEWS NETWORK

New Delhi, August 9, 2023: The Congress party has alleged that public broadcaster Sansad TV provided limited screen time to Rahul Gandhi during his first speech in the Lok Sabha following his reinstatement as an MP. Rahul Gandhi's speech, which focused on the Manipur issue, ignited a spirited debate during discussions on the No-Confidence Motion.
Jairam Ramesh, Congress General Secretary in-charge of Communications, expressed concerns about the unequal distribution of screen time, stating, "In his first speech after returning from unjustified disqualification, Rahul Gandhi spoke from 12:09 pm to 12:46 pm, totaling 37 minutes during the No-Confidence Motion. Yet, Sansad TV's camera featured him for only 14 minutes and 37 seconds, less than 40% screen time! What are they apprehensive about?"
Ramesh further criticized the camera's disproportionate focus during Gandhi's discussion on Manipur, stating, "This becomes even more pronounced! Rahul Gandhi spoke on Manipur for 15 minutes and 42 seconds. However, Sansad TV's camera predominantly captured Speaker Om Birla for 11 minutes and 08 seconds, approximately 71% of the time. Rahul Gandhi's video coverage while discussing Manipur was a mere 4 minutes and 34 seconds."
During his speech, Rahul Gandhi directed his criticism towards Prime Minister Narendra Modi, accusing him of neglecting Manipur. He contended that the government had bifurcated Manipur and alleged that the essence of "Bharat Mata" had been compromised.
Union Minister Smriti Irani responded to Gandhi's remarks, remarking, "For the first time, a member of Parliament spoke of the 'death of Mother India,' and their alliance members clapped."
The charged atmosphere of the Lok Sabha debate underscored the intensity of ideological disparities and accusations. The allegations surrounding screen time allocation added a fresh dimension to the ongoing political discourse, shedding light on the evolving role of media representation in influencing public perception.