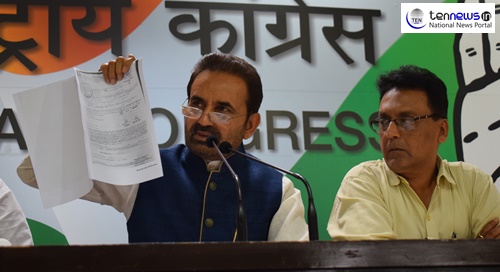 New Delhi: Congress on Thursday said that during demonetization a scam of worth Rs 88, 000 crore held through Bitcoin currency (which is illegal in India) with the help of BJP leaders in Gujarat's Surat district.
Reveling shocking scam, Congress spokesperson Shaktisinh Gohil said, "Recently, we have seen a report of co-operative bank scam commenced by the senior BJP leaders during noteban but this time the amount is much bigger and BJP leaders are the kingpin of the scma."
"According to Gujarat CID crime, during noteban, a scam of Rs 5,000 crore happened though Bitcoin. While, if media reports are to be believed, it is a scam of Rs 88,000 crore," said Congress leader Gohil while addressing media at party office today.
It is a worth mentioning that Bitcoin is a digital currency and illegal in India. However, as per Gujarat CID, rate of a bit coin in Indian currency is Rs 5 lakh.
As per the findings of Gujarat CID, former BJP MLA Nalin Kotadiya is the kingpin of the scam and the informer of follow up extortions by the Bitcoin holder Shailesh Babulal Bhatt.
"Shailesh Babulal Bhatt is a resident of Surat and as per the report he had been extorted twice. First by CBI inspector Sunil Naray and second by the police and he had been asked to transfer 5 crore of bitcoin and second 200 crore," Gohil said.
"Shockingly, when he went to the state CID, the agency did not file case with the name of Bhatt but with the name of police. After the investigation, when agency found that ex-BJP MLA Nalin Kotadiya is the kingpin of the scam, filed an FIR launched a search operation. In between, he released a video, which says if I got nabbed, I will reveal the name of everyone who are involved in this scam. Now, he has been absconding," added Congress leader Gohil.
While revealing, he claimed that, he have all the evidences of his claims including voice call recordings.
"As an opposition, we are demanding investigation of this scam under the lens of Supreme Court because investigation agencies are under the pressure of BJP leaders and fearing with their involvement. This investigation may unearth shocking facts," he asserted.
What is Bitcoin?
Bitcoin is the world's first cryptocurrency, a form of electronic cash. It is the first decentralized digital currency: the system was designed to work without a central bank or single administrator. Bitcoins are sent from user to user on the peer-to-peer bitcoin network directly, without the need for intermediaries.These transactions are verified by network nodes through cryptography and recorded in a public distributed ledger called a blockchian. Bitcoin was invented by an unknown person or group of people using the name Satoshi Nakamoto and released as open-source software in 2009.
Bitcoins are created as a reward for a process known as mining. They can be exchanged for other currencies, products, and services.