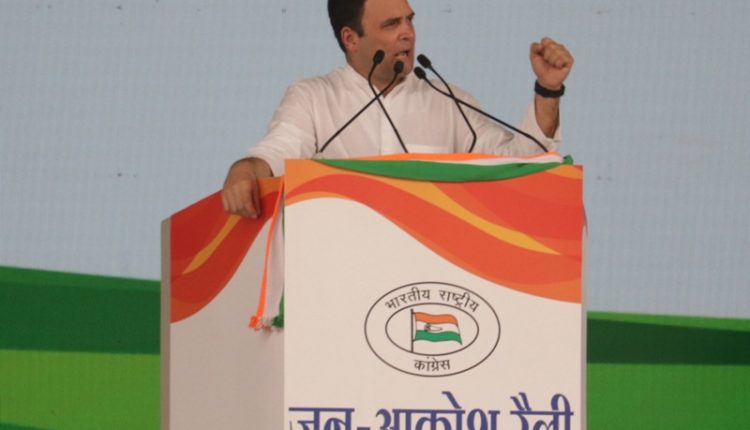 New Delhi: Continuing sharp attack on BJP-led NDA government and PM Narendra Modi's polices, Congress president Rahul Gandhi on Sunday said, "Whenever PM Modi speaks either in a rally, event or in foreign countries, people start looking for truth and search for where he lied because he hardly speaks truth. His words carry no weigh."
He attacked BJP government fiercely while addressing 'Jan Aakrosh Rally' held at Ramlila Ground on Sunday afternoon.
As per the Congress party's claims, more than 2 lakh people had participated in the rally.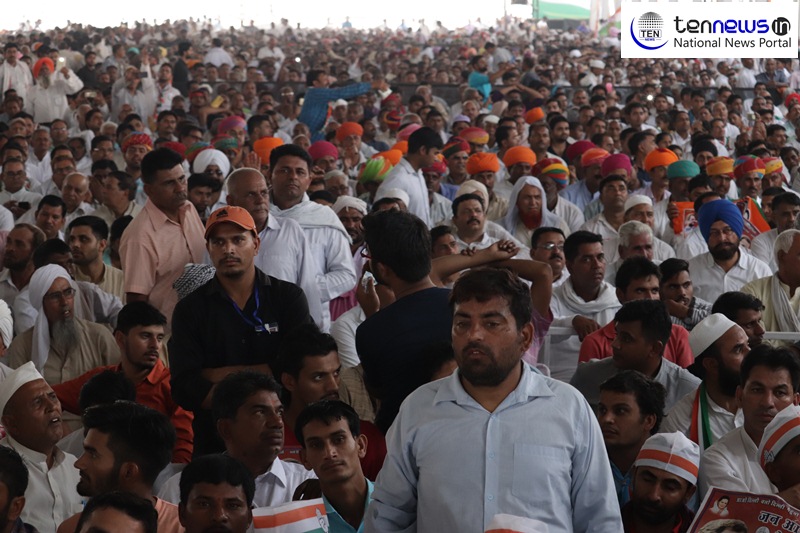 Aimed to give strong message to the ruling party in the run up of assembly election in Karnataka, Madhya Pradesh, Chhattisgarh and Rajasthan, Congress organised 'Jan Aakrosh Rally' to counter and corner the Modi government.
This is the first such national-level rally of Rahul Gandhi since he became the president of the grand old Congress party.
He further said, "There is war not between Congress and BJP but between Truth and lies. And by winning upcoming assembly elections and General Elections of 2019 we will prove it."
In addition to that, lauding the courage of his party workers, Rahul Gandhi said, "Every Congress worker is "Sher Ka Baccha".who works hard under the sun".
Taking jibe on RSS's ideology, Rahul Gandhi said, "Recently, senior party leader Salman Khurshid spok against the party line unlike the RSS's single ideology, I respect his ideologies, his feelings. And I can assure each and every one from this stage that I will protect different ideologies and I will nurture them."
Later he advised Khurshid, "When we are fighting with a common enemy RSS, we have to be together our focus should be on defeating them.
Former Prime Minister Manmohan Singh, former Congress president, Sonia Gandhi, Leader of Opposition (Rajya Sabha) Gulam Nabi Azad and other senior party leaders were also present in the rally and ignited the crowed with their speeches.
While concluding his speech, he said, "I had decided not to speak on this but later I jumped to the conclusion that I should reveal because you all are party of family. When I was on way to Karnataka and my flight fell 8,000 feet down due to technical snag I remember god and he saved me. So, I have decided to pay visit to Kailash Mansarovar Pilgrimage post Karnataka election and I will be on leave for a week or so."
Major points of his speech
– The Chinese are aggressively pursuing militarisation in Doklam. Despite this, all that PM Modi does is hold a "no-agenda" meeting with the Chinese President: Congress President Rahul Gandhi on PM Modi's "informal" Wuhan summit.
– Unlike BJP, Rahul Gandhi – while speaking at Jan Aakrosh Rally  said – the grand old party fights for "Satya" (truth) not "Satta" (power)
– The BJP and RSS have spread falsehood about the Congress across the nation. But the truth is now making its way out and people can see through their lies.
– The BJP and RSS have spread falsehood about the Congress across the nation. But the truth is now making its way out and people can see through their lies.
– Congress is set to win in Rajasthan, Karnataka and Chattisgarh in the upcoming elections.
– In the last 70 years, Congress had helped unite the country. The government at the centre is spreading lies and hate and following British's policies divide and rule.
– Talking of women's safety,  the Congress President slammed the BJP and said an Uttar Pradesh legislator was involved in the Unnao rape case. PM Modi says "Beti Bachao Beti Padhao". Ironically, the members of his own party are assaulting women.
– Minorities are being attacked everywhere yet PM Modi does not bother to react to such incidents.
– Claiming that unemployment has reached its peak levels, Rahul Gandhi repeated that demonetisation and "Gabbar Singh Tax" hurt the national economy.
– The farmers, he said, were under stress, but their loans were not written off by the government, which was busy waiving debts of corporate houses, he said. "If the Congress party wasn't there, the farmers will not be able to survive a day. If the Congress didn't stand in his way, PM Modi would have taken every inch of farmland away from the farmers," he said.
– Taking jibe on BJP for cornering Lal Krishan Advani said, "I assure you that every member of Congress party will get respect and place, age is no bar.