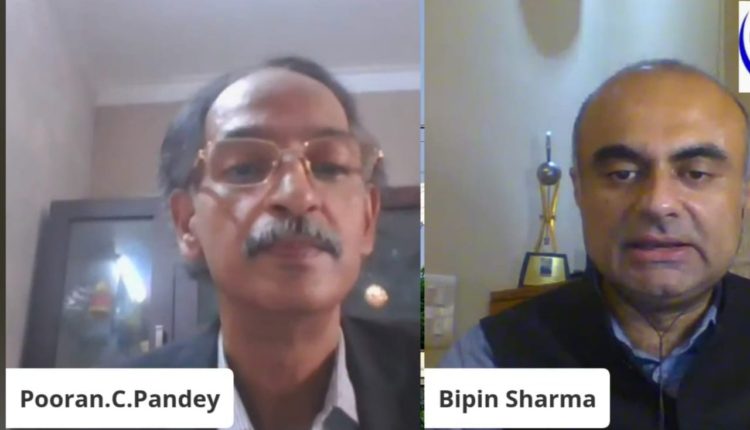 Covid-19 is here to stay for atleast 15 months: Dr Pooran Chandra Pandey in Ten News Webinar
In a webinar by Ten News, Pooran Pandey – Non-Resident Fellow, Nkafu Policy Institute, Africa and USA said that the Covid-19 is here to stay for alteast 15 months in India and across the globe in varying degrees much like the Spanish flu in 1918.
On the plight of migrants amid lockdown, Pandey said that the migrants are going to face another set of problem when they return back home due to the lack of money and resources.
Businesses especially MSMEs are up for a big challenge as they won't have enough workers when they reopen.
"As per experts, 20% of migrant labourers are less likely to come back. Even if they do, it's not going to be a quick return," Pandey said.
Bipin Sharma – national tv political analyst and consulting editor at Ten News said that the deadly disease was completely unforeseen. When on 24th March, the Prime Minister announced the decision of lockdown, he cited an instance from mahabharata, that it was won in merely 18 days, "So if people display virtues of resilience, resolve and restrain then we will definitely be able to vanquish corona," PM Modi had said. But this phase kept on increasing and now we have entered the 5th lockdown.
"Considering humongous population and medicore healthcare system, India has done remarkably well in comparison to US, UK, Italy, Spain, and now the onus is on not just the government but the ordinary man to hand a crushing defeat to corona, for that we must all work in tandem and synergy. In the absence of synergy between states and centre, we have seen the plight of migrants."
On China, Sharma said that there were serious lapses on the part of China which actually led to the outbreak of the disease. Lots of countries have now launched a strong attack on China.
On the possibility of foreign companies exiting China and entering India, Vietnam or Indonesia, Pandey said that India is ahead of both of these countries as she possess plentiful skilled labour and land.
Praising the government, he said that we are on a right track with a stable and resilient government with good leadership.
"I've not seen a government which takes quick action on fdi, lockdown, follow through and so on."
The country though needs better infrastructure and needs to build small centres of excellence for leather, khadi, handlooms in order to attract companies exiting China.
"Providing economic subsidies, tax holidays in special economic zones to companies that are going to come is also a key."
India has alredy moved ahead in the race to attract foreign companies by modifying land and labour laws.
"She has also demonstrated courage, competence, caliber in scaling up the production of PPE kits from 0 to 2 lakh in ludhiana."
On competition with China, he said that India and China are no competition, we do not really match point to point, we are a democracy and they are a communist country.
"China's polity is not open and transparent, nobody knows what is happening there."
"German Philosopher Immanuel Kant once said that democracy is more likely to succeed than their counterparts in long run."