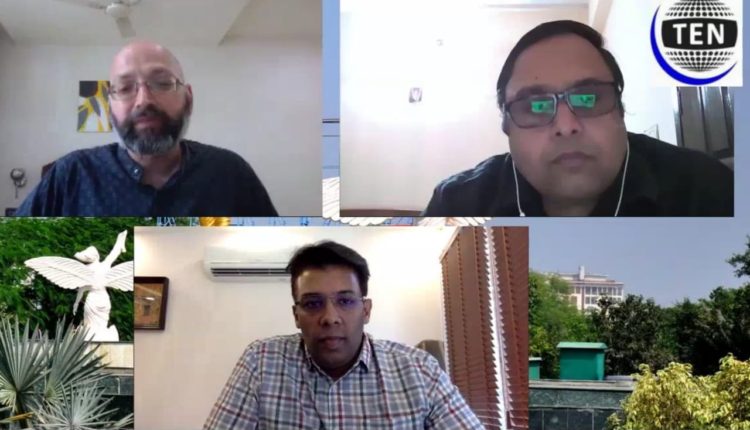 Customer-centricity is the winning strategy for every business: Ten News Webinar on Unlocking Business
In a webinar by Ten News, Vikram Karunakaran, managing director at Delta Pure said that the winning strategy for every business, pre and post Covid, is to become more customer centric. "In the times of Covid, the businesses must get closer to their customers and assist those who are severely affected."
He emphasized on embarking innovation in products and products schemes so as to lower the burden on the customer and to incentivize them to be connected with you. Quoting an example from his own company, he said that due to the transmission of covid from surfaces, the company innovated its water dispenser product and made it operate by foot, so that the customers can avoid touching it.
The host of the webinar, Ram Jalan – co-founder and consultant at DINTW concisely put forward the agenda for the conversation and got answers from the experts on some crucial questions on business strategy in the times of Covid.
He also encouraged people to defy using the business acronym "VUCA" which stands for volatility, uncertainty, complexity and ambiguity and is being used to define the current situation in a negative way. He proposed that the businesses must define their vision, understanding and clarity as an alternative while forming their business strategy.
Another panelist, Manish Baid – co-founder at Lib Gem Solutions said that there is a need to relook at business processes and think of how the same things can be done differently. Even in traditional shops one can change how they service their customers.
On the apparent shift to digital technologies amid Corona, Manish said that the digital transformation was inevitable, shift to digital would have arrived in 5-7 years anyway.
What Covid has done is that it has expedited the entire thing, it has pushed people into digital at high pace.
"The plans to organize exhibitions at online platforms is an example of digital transformation."
To brainstorm what changes are required in the business process amid Covid, Vikram said that his company created a 7-member response team which included people from all the the departments.
VIkram's company has now engaged all the employees in Business Development as bringing in new business and becoming customer-centric is the need of the hour.
In Ram Jalan's words, customer centricity is the responsibility of all the employees and not just the top level management.
As his closing remarks, Vikram said that one should keep investing and should keep on looking for new business opportunities which are available or will be available in ample in coming times.
As his closing remarks, Manish said that people should not be scared of Covid. The winners will be those who will adjust, adapt and change. A key element of change would be how people transform their businesses into some level of digital engagement with their customers and suppliers.
"Digital would also dramatically reduce the cost of doing business."
Unlocking Your Business | Digitally Yours – A Show by Ram Jalan

Unlocking Your Business | Digitally Yours – A Show by Ram JalanHow to make your organisation Digital First and Be Ready for the New NormalPanellist:1. Mr. Ram Jalan, Co Founder and Consultant at DINTW 2. Mr Manish Baid, Co-Founder, Lib Gem Solutions. Specialities: Financial Advisory, Joint Ventures, Private Equity, M&A More about Mr. Manish Baid:Mr Baid is co-founder of investment banking firm LibGem Solutions which is practicing in the area of Private Equity, M&A, Debt Syndication and International JVs. This company has been operational for 12 years and has successfully concluded many transactions in all area of service.LibGem has been working across North India and across sectors from manufacturing to services. The various segment served include automotive ancillary, consumer durables, lighting, electrical, electronics, pharmaceuticals, infrastructure, IT Services, Ecommerce, etc. Most of the clients of the company are mid-market companies. LibGem Solutions is present online at www.libgem.in. Prior to founding his own venture, Manish has worked in large organization in various senior level position including running manufacturing operations. He was CFO of Su-Kam Power Systems Limited and had earlier worked in Anand Group, an auto component conglomerate, in various capacities. He has also run manufacturing operations in Anand Group for their Joint Ventures. His last assignment at Anand Group was a Corporate Controller in their Corporate Office.Over the last twelve years, Manish is now well connected with most of the industry leaders and has been an active participant at various industry forums to present views on emerging issues. Manish is also invited as guest speaker at training institutes.Manish is member of the Institute of Company Secretaries of India and the Institute of Chartered Accountants of India. In addition, he has passed the final exams of Chartered Institute of Management Accountants, London as well as CFA from ICFAI, Hyderabad.

Posted by tennews.in on Sunday, May 24, 2020