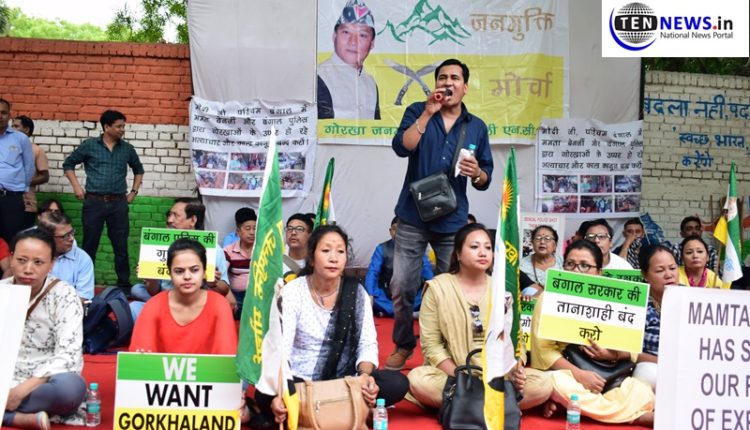 Darjeeling is not the parental property of the leaders of West Bengal: Gorkha Janmukti Morcha
Prerit Chauhan (Photo-Video) Lokesh Goswami Tennews New Delhi :
New Delhi: The families from the Darjeeling hills whose family members had been killed and arrested by the West Bengal police during anti-language imperialism and Gorkhaland agitation protested at Jantar Mantar today in New Delhi.
The protesters demanded that the BJP party, which got the mandate in both the Lok Sabha election and the Darjeeling Assembly by-polls, should fulfill the aspiration of the people with the formation of Gorkhaland in the next 5 years.
While speaking To Ten News, Gorkha Janmukti Morcha spokesperson said,
"We want our own Land Gorkhaland. Darjeeling is not the parental property of the leaders of West Bengal.
Darjeeling belongs to Gorkhas.The people of Darjeeling is in complete darkness regarding the role the government is playing to minimise the draconian approach the Government of West Bengal has taken against the innocent people of Darjeeling. As you are well aware that innocent people are jailed and psychological torture is afflicted among the people."
He further said, "The torture is very selective and on assumption of being sympathetic to the demand of Gorkhaland. school going children and senior citizens are also not spared. The situation in Darjeeling and its surrounding areas is not normal and people are living with constant fear of police atrocities."
"We, therefore. would like to remind you to have a tripartite discuss with regards to the political situation of Darjeeling soon. We would further like to bring to your notice that the people in Darjeeling are living with constant fear where the
violation of human right by the police and political dispensation of the government has become a norm rather than as exception," added gorkha janmukti Morcha spokesperson.