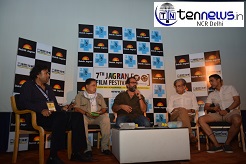 #Delhi bids farewell to 7th Jagran Film Festival
Delhi bids farewell to 7th Jagran Film Festival
 Celebrities Anand Rai, Tapsee Pannu, Nitin Chandra, Rakesh Chaturvedi, Sabyasachi Mohapatra graced the closing day
 Some of the great movies included; Nil Battey Sannata, Raman Raghav, Chotay Shah, Neerja, Shatranj Ke Khiladi, Shakuntala, Mithila Makhan made the last day unforgettable @ JFF
 5 day film fiesta concluded with Asia Premiere of Romanian Film 'Sieranevada'
 Delhi, July 05, 2015: Curtains were drawn on the 7th Jagran Film Festival, but not before mesmerizing film lovers at the Siri Fort Auditorium in Delhi on its 5th day with a noteworthy selection of movies, master classes and memories to cherish. The mega festival came to an end with the Asian Premiere of Romanian movie Sieranevada that was one of the main competition movies at the Cannes Film Festival.
The last day of the festival opened with Ashwini Iyer Tiwari's Nil Battey Sannata, an emotional saga based on mother-daughter relationship & their struggle. Soon, the Siri Fort Auditorium resonated with cinematic expressions of modern day Indian film makers with Sriram Raghwan directed film Raman Raghav, Pakistani Director Sabiha Sumar's Chotay Shah, Ram Madhwani's Neerja, Satyajit Ray's classic Shatranj Ke Khiladi, & V Shantaram's Shakuntala, National Award winning movie Mithila Makhan, Discordia and Some of History.
Short Films garnered the much-deserved spotlight under the Jagran Shorts segment with screening of Enemy, Tree Without White Flower, The Flove, Destiny, Amrita And I, Snack Time.
The spirit to disseminate film related insights and help those genuinely interested in movie-making march ahead, continued on day 5 too. A Coffee table session on Regional Cinema & its Challenge with Manoj Srivastava, Rakesh Chaturvedi Om, Sabyasachi Mohapatra & Nitin Chandra. During the session, the panelist had a deep discussion about regional cinema and its impact & importance in Indian Cinema. Nitin Chandra highlighted the point that regional cinema specially Maithili/Bhojpuri is lacking behind as people from its roots are not supporting the language, whereas other languages like Bengali, Marathi, Tamil are doing well due to proper attention and preservation by people. He said, if we talk about Govt support, the government is granting 3 crr for a Hindi movie, whereas the regional cinema is receiving just 15 lakhs for making a movie here.
Producer Anand L Rai participated in a session on Our Cinema, Their Cinema, where the renowned producer known for movies like Tanu Weds Manu, highlighted some important aspects of cinema. Earlier in the day Rai also met audience post Nil Battey Sannata, where he received great applause from the audience. He shared about how the idea was conceived and why the title was kept. He mentioned I'm a middle class person and made movies around problems & life of a common man. Talking about the success of the movie, Anand said I can contribute, I can try but one has to create their own way. For me movie is not finished but it's just started and it would be the biggest success for us if a single mother gets inspired from the movie and arrange education for her daughter.
Film lovers reluctantly bid farewell to India's largest travelling film festival, 'Jagran' that presented some of the finest works of cinematic geniuses and featured a notable selection of Indian and world cinema classics and contemporary films. This year's Jagran Film Festival exceeded its own benchmarks set over the last six editions. India's only travelling festival in its 7th edition culminated on a happy note and promised to be back next year with another edition of films, fun and interaction at its best.
The 2016 edition of Jagran Film Festival will traverse from Delhi to the Indian hinterlands of Kanpur, Lucknow, Allahabad, Varanasi, Agra, Meerut, Dehradun, Hisar, Ludhiana, Patna, Ranchi, Jamshedpur, Raipur, Indore, and Bhopal before culminating in Mumbai. The 2016 edition is all set to surpass its own last benchmarks of presenting over 16 cinema appreciation workshops, 400 screenings in 17 cities, that were witnessed by a direct audience of more than 50000 film aficionados and a media reach-out to nearly 50 million people in India in 2015.
The 7th edition of the Jagran Film Festival, Delhi 2016 took place from 1st– 5th July, 2016 at Siri Fort Auditorium, Delhi.