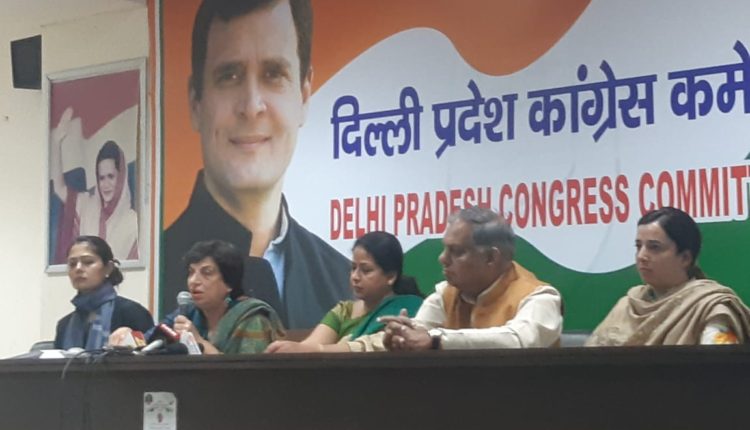 New Delhi: Delhi Pradesh Congress Committee chief spokesperson Sharmistha Mukherjee today said that due to the dangerous levels of pollution, Delhi has
become a "gas chamber", and the Government agencies are well aware of this fact, but
despite that the Aam Aadmi Party Government has not taken any effective steps to
control pollution in Delhi.
Addressing the press conference Sharmistha
Mukherjee, commenting on the National Green Tribunal (NGT) imposing a Rs 25 crore
fine on the Delhi Government for its failure to save Delhi from severe pollution, and00
ordered the amount to be recovered from the pollutinng industries, other polluting
agencies and the officials of the Delhi Government within three months, said that Delhi Chief Minister Arvind Kejriwal, AAP's concerned Minister and the MLAs should
also be brought in the ambit of the fine, as it was due to the failue of the Delhi
Government to control pollution levels in the Capital that has made Delhi a virtual gas
chamber.
"NGT has understood that the Delhi Government was working without
any accountability and responsibility in controlling pollution, and the ultimate responsibility eventually rests with the
Chief Minister, the Environment
Minister and the MLAs, and they have
miserably failed to check the rising pollution levels in Delhi," said Sharmistha Mukherjee.
"AAP Government, which came to power
riding on the Nirbhaya rape incident,
has utterly failed to ensure the safety
and security of girls living in shelter homes, and nine girls have disappeared
from the shelter homes run by the Delhi
Government under the very nose of the
Chief Minister. She said that it was very
shocking that such a thing has
happened in the National Capital
where the Prime Minister, who talks
incessantly about the "Beti Bachao"
campaign, also lives," added Mukherje.