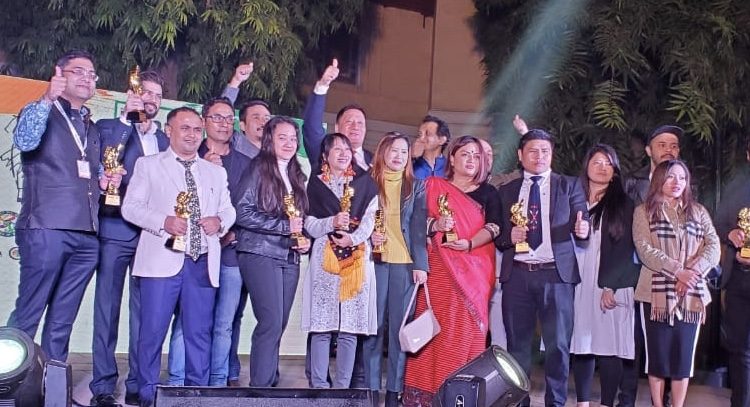 Delhi honour North East unsung samaritans for their selfless services under unique initiative – India integration with north east people.
By Robin Hibu IPS
Delhi
Website – www.hhhelp.org
New Delhi (06/0819) In a rare gesture, lead by Mayor of Delhi Avtar Singh, top hotelier Oberoi, international fashion icon Rosy Ahluwalia, noted painter Bipul Saini , popular women magazine Talash's writer & punlisher Rajni Panwar, eminent writer and TV commentator Bipin Sharma, noted industrialist & philanthropist Pawan Monga at iconic Bikaner House near India Gate, New Delhi….honoured silent samaritans from north east serving distress north east in Delhi NCR for years.

Nostalgic evening was marked by mosiac manipuri dance and scintillating khadi fashion show by Rosy Ahluwalia and her top models.
– Unsung Samaritans of Delhi who have been honoured are Dr Alana Golmei, social worker, Daniel Lyndoh advocate social worker, Dr Sangeeta Chanu, social worker, Jyoti Jhunloju, advocate social worker, Abel Sumi, social worker from Gurgaon.
– They have also honoured newly formed NECC DELHI NCR, ( North East Delhi Chamber of Commerce) for stunning initiative for promotion of business entrepreneurs from north east states in Delhi NCR. Mayor of Delhi Avtar Singh promised all out support for business entrepreneurs from north east Delhi.
– Helping Hands Ngo core members ( Chuba Manen, Gaurav Vats, Rajen Chetri, Reena Rai, Robin Hibu, Deoraj, Christina Taying were also honoured for pan India distress assitance endeavour and for youth empowerment of poor bright north east students.
– Anna Hibu, 5 time Delhi karate champion, winner of promising sport child scholarship of Delhi Govt, 37 record medals winner in karate championship was applauded by Rosy Ahluwalia and Rajni Panwar with glittering golden trophy.
– Deeply touched by Delhi for honouring unsung heroes of North Easterners in Delhi NCR. Its truly carrying forward the ACT EAST POLICY for development of NE people.